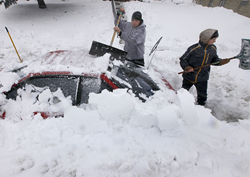 Washington D.C. (PRWEB) January 29, 2015
After a devastating blizzard in the Northeast which was deeming by Twitter as #Snowmageddon2015, several homes in the Massachusetts were destroyed as a result of the coastal flooding, strong winds and snowfall. According to a CNN report on January 28th, 2015, in the town of Marshfield, MA, the storm managed to take down the existing seawall that stood over 50 feet tall and flood numerous homes. The damage to these coastal homes was bad enough to declare two of the homes as condemned and inhabitable. Governor Charile Baker even stated that Massachusetts "had record-breaking snowfall in many parts [of the state]." Residents of Marshfield are banding together to help one another in these tough times.
Businesses looking to help in the disaster relief of debris removal, construction/rebuilding and flood damage assistance must become registered as a qualified government contractor with the United States Federal Government. Contractors can contact US Federal Contractor Registration to qualify their business for FEMA contracts and become a registered government contractor. Vendors can call the Contractor Helpline at 1(877) 252-2700 Ext 1 to speak with a live Acquisition Specialist about qualifying and conducting the FEMA Registration.
In order for a business to assist in disaster relief efforts after a hurricane, tornado, flood, etc, they must become registered in System for Award Management (SAM) and submit an Industry Liaison Program Vendor Profile to FEMA Headquarters. US Federal Contractor Registration will process all of the required paperwork for all contractors looking to become properly registered and start working for the government. US Federal Contractor Registration has assisted thousands of businesses with their government registration to assist in the disaster relief efforts of Hurricane Sandy, Tropical Storm Dolly, the Winter Storm of 2014, 2013 Colorado Flood, Oklahoma Tornado, Tropical Storm Issac and many more.
Companies that would like to market their business directly to procurement officers and FEMA officials to win disaster relief contacts are encouraged to enroll into the Simplified Acquisition Program. The Simplified Acquisition Program is designed to target procurement officers and government buyers that have a history of buying a specific trade, service or product. The Simplified Acquisition Program allows contractors to make real connections with buyers across the nation. Once a solid foundation of networking has been constructed, contractors have more of an opportunity to win micro-purchases, simplified acquisition contracts and even sole source (no bid) FEMA contracts.
Does your business qualify for government contracting? Vendors can call Acquisition Specialist Jonathan Maness at (877) 252-2700 Ext 739 to determine if their business qualifies for government contracting and begin the enrollment process in the Simplified Acquisition Program.
Businesses that would like to learn more about involvement in FEMA contracts can visit http://femacontracts.com/.