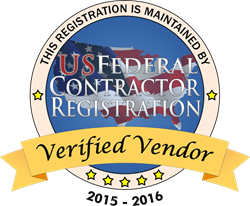 Washington D.C. (PRWEB) February 03, 2015
Jami Rogers, Director of Contracting at Allen's Electric Motor Service, inc recently conducted a video testimonial with US Federal Contractor Registration's Director of Business Development Jonathan Maness. The video testimonial covered several topics from customer service to the Simplified Acquisition Program. Jami flew into St. Petersburg, FL all the way from Louisiana just to promote the service of US Federal Contractor Registration and take part in a one-on-one training session.
Jami stated during the video interview, "As you use an accountant for your day to day financial activities, I use US Federal Contractor Registration for my day to day activities of government contracting. I am not familiar with all of the language and terminology and using them makes my life much easier. You (Johnathan Maness) have made my life so easy! Before US Federal Contractor Registration it would have taken me months to years to read all the contracts and figure out what I was supposed to be doing. Since US Federal Contractor Registration, all I have to do is make a simple phone call or send an email and I have an answer immediately. As we all know time is money. Instead of me taking the time to learn the process (government registration, federal paperwork, etc), US Federal Contractor Registration has invested their time on something they are very familiar with. They completed the process in a short amount while it probably would have taken me months to get done."
Allen's Electric Motor Service, inc's sister company Action Machining & Pump Service enrolled into the Simplified Acquisition Program after conducting the mandatory qualification process with Jonathan Maness. Every qualification process discovers available contracting opportunities, shows previously awarded contracts, and finds spending growth in certain federal agencies.
The Simplified Acquisition Program is designed to target procurement officers and government buyers that have a history of buying a specific trade, service or product. The Simplified Acquisition Program allows contractors to make real connections with buyers across the nation. Once a solid foundation of networking has been constructed, contractors have more of an opportunity to win micro-purchases and simplified acquisition contracts.
Jami went on to discuss the benefits of the Simplified Acquisition Program stating, "The Simplified Acquisition Program has allowed our company to be viewed in one location. The federal procurement officers are able to log into one website and see all of our information and learn everything there is to learn about our company. I would recommend (the Simplified Acquisition Program) to anybody interested in winning federal contracts without all the bidding process that is takes. It is a lot of paperwork and time that is involved in bidding a job. This allows us to go in and receive contracts without even having to place a bid."
The Simplified Acquisition Program includes: a System for Award Management (SAM) registration, a complete government business plan with direct access to buyers and prime vendors, a customized profile in Dynamic Small Business Search (DSBS), monthly email bid notifications, a GovKinex government-formatted website with federal verification seal or verified vendor status, branded domain name, and year long training.
Businesses that would like to speak with Jonathan Maness of US Federal Contractor Registration about the enrollment process in the Simplified Acquisition Program or determine if their business qualifies for government contracting can call (877) 252-2700 Ext 739.
Vendors who would like to learn more information about the Simplified Acquisition Program can visit http://www.simplifiedacquisitionprogram.org/.
Please subscribe to US Federal Contractor Registration on Youtube to follow all up-to-date programming on government contracting.