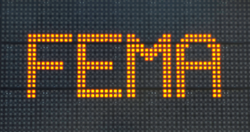 Washington D.C. (PRWEB) February 04, 2015
According to a Federal Emergency Management Agency press release on January 30th, 2015, FEMA has awarded nearly $2.4 million in relief funds for the removal of sediment in Santa Fe County, New Mexico. FEMA stated back in September 2013, there were heavy floods in the various rivers in central New Mexico. This caused sediment to deposit in the Nambe Reservoir. These reservoirs provide public water for municipal and irrigation use in the Pojoaque Valley Irrigation District. FEMA is looking for registered government contractors to assist the state of New Mexico with the removal of this sediment contaminating the district's water supply. All contractors must be registered prior to inquiring about assistance.
Many contractors don't even think about their government registration until an opportunity has presented itself. With a disaster response contract from FEMA, neglecting registration can spell almost certain failure. Immediately after a disaster or a FEMA notice, there is a flood of contractors looking for work. If a business is unprepared due to a lapsed registration, it is unlikely the noncompliant business will be awarded a contract. Even if a business is awarded a contract, FEMA will be unable to pay that business until their System for Award Managemen t (SAM) registration and FEMA registration is completed.
In fact, there are even perks to completing the registration ahead of time. Often, no-bid contracts are awarded by contracting officers who simply call one or two businesses who have profiles in Dynamic Small Business Search (DSBS). If the businesses already have their registration taken care of, they could receive a contract on the spot. If not, the contracting officer is likely to just call the next number on their list. Businesses will miss their opportunity if they are not prepared for federal work at all times.
US Federal Contractor Registration has assisted thousands of businesses with their government registration and FEMA registration to assist in the disaster relief efforts of Hurricane Sandy, Tropical Storm Dolly, the Winter Storm of 2014, 2013 Colorado Flood, Oklahoma Tornado, Tropical Storm Isaac and many more. US Federal Contraction Registration is the world's largest third party registration firm that has registered over 65,000 businesses in System for Award Management (SAM), and the previous contractor registration database of CCR/ORCA. Businesses can have a professional Acquisition Specialist from US Federal Contractor Registration help determine if their business is prepared for government contracting and qualified for the federal marketplace.
Businesses that wish to learn more about FEMA contracts can download the free FEMA Beginner's Contractor Packet off of the FEMA Contracts website. Our FEMA packet is an informative collection of articles and information designed to help businesses get a head-start on the contracting competition.
Vendors interested in learning how to bid on available contracts and becoming eligible for government contracts can call US Federal Contractor Registration Acquisition Specialist Nicole Smith at (877) 252-2700 Ext 732 or visit http://www.FEMAContracts.com to learn more about FEMA registration.