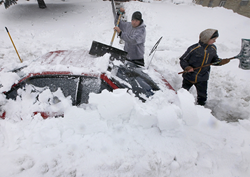 Washington D.C. (PRWEB) February 17, 2015
New England is receiving a winter season that can only be summed up in two words: record breaking. According to a Fox News Weather Report, local forecasters are stating that February 15th, 2015 was the snowiest day in the history of Boston, Massachusetts. Hundreds of flights were cancelled in the Boston area and over 1,900 flights nation wide. Gov. Charlie Baker ordered all cars off the road and shut down the Massachusetts Bay Transportation Authority which included all bus, rail and ferry services. The news report even stated, "Massachusetts called up hundreds of National Guard troops to assist with snow removal, and the Hanscom Air Force base outside Boston became a staging area for heavy equipment pouring in from eight other northeast states to help in the effort." Massachusetts has received over seven feet of snow in the last three weeks and is looking for contractors to assist in the relief efforts immediately.
FEMA contracts will be awarded to properly registered government contractors who aide the Boston snowfall relief. In the case of the Massachusetts blizzard, construction companies, tree removal companies and even janitorial companies could be looking at a possible multi-million dollar pay off. Companies that have the manpower and equipment to assist in the disaster relief efforts will have the opportunity to win government contracts. Every State must hire privately held companies to assist in the relief efforts of natural disasters such as hurricane, tornados, floods and snow storms. Every business aiding the snowfall efforts must first be registered in System for Award Management (SAM) and submit their Industry Liaison Program Vendor Profile to FEMA Headquarters. Businesses can download free FEMA instructions in the FEMA Packet located at GovernmentContractingTips.com.
Often, no-bid contracts are awarded by contracting officers who simply call one or two businesses who have profiles in Dynamic Small Business Search (DSBS). If the businesses already have their registration taken care of, they could receive a contract on the spot. If not, the contracting officer is likely to just call the next number on their list. Businesses will miss their opportunity if they are not prepared for federal work at all times.
US Federal Contractor Registration has assisted thousands of businesses with their government registration and FEMA registration to assist in the disaster relief efforts of Hurricane Sandy, Tropical Storm Dolly, the Winter Storm of 2014, 2013 Colorado Flood, Oklahoma Tornado, Tropical Storm Isaac and many more. US Federal Contraction Registration is the world's largest third party registration firm that has registered over 65,000 businesses in System for Award Management (SAM), and the previous contractor registration database of CCR/ORCA. Businesses can have a professional Acquisition Specialist from US Federal Contractor Registration help determine if their business is prepared for government contracting and qualified for the federal marketplace.
Businesses that wish to learn more about FEMA contracts can download the free FEMA Beginner's Contractor Packet off of the FEMA Contracts website. Our FEMA packet is an informative collection of articles and information designed to help businesses get a head-start on the contracting competition. Vendors interested in learning how to bid on available contracts and becoming eligible for government contracts can call US Federal Contractor Registration Acquisition Specialist Jonathan Maness at (877) 252-2700 Ext 739 or visit http://www.FEMAContracts.com to learn more about FEMA registration.