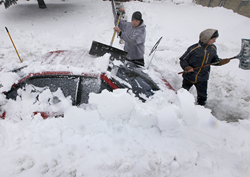 Washington D.C. (PRWEB) February 20, 2015
Thanks to an out pouring of help and assistance, US Federal Contractor Registration was able to register hundreds of businesses to aide in the Boston Snow Removal Effort. In an announcement on February 18, 2015, Mayor Marty Walsh confirmed that the City of Boston spent over $35 million on Snow Removal this past month. Setting a new city record for not only the most recorded snow fall in the history of Boston, MA, but also the most government dollars spent clearing snow. Mayor Walsh's spokesperson Bonnie McGilpin stated, "The City will continue to actively monitor costs, though the priority during emergencies is to manage snow removal, not account for costs in real time."
US Federal Contractor Registration would like to thank all of the contractors that have reached out since this past Sunday to become registered and help with the disaster relief in Boston. The United States Federal Government hires privately held companies to assist in the relief efforts of natural disasters such as hurricane, tornados, floods and snow storms. Prior to aiding the government and accepting contracts, every business must file the required federal paperwork to become a FEMA contractor/registered government contractor.
Every business aiding the snowfall efforts in Massachusetts must first be registered in System for Award Management(SAM) and submit their Industry Liaison Program Vendor Profile to FEMA Headquarters. Businesses can download free FEMA instructions in the FEMA Packet located at GovernmentContractingTips.com or call (877) 252-2700 Ext 1 to receive an Industry Liaison Program Vendor Profile document.
US Federal Contractor Registration has assisted thousands of businesses with their government registration and FEMA registration to assist in the disaster relief efforts of Hurricane Sandy, Tropical Storm Dolly, the Winter Storm of 2014, 2013 Colorado Flood, Oklahoma Tornado, Tropical Storm Isaac and many more. US Federal Contraction Registration is the worlds largest third party registration firm that has registered over 65,000 businesses in System for Award Management (SAM), and the previous contractor registration database of CCR/ORCA. Businesses can have a professional Acquisition Specialist from US Federal Contractor Registration help determine if their business is prepared for government contracting and qualified for the federal marketplace.
Businesses that wish to learn more about FEMA contracts can download the free FEMA Beginners Contractor Packet off of the FEMA Contracts website. Our FEMA packet is an informative collection of articles and information designed to help businesses get a head-start on the contracting competition. Vendors interested in learning how to bid on available contracts and becoming eligible for government contracts can call US Federal Contractor Registration Acquisition Specialist Mark Georges at (877) 252-2700 Ext 735 or visit http://www.FEMAContracts.com to learn more about FEMA registration.