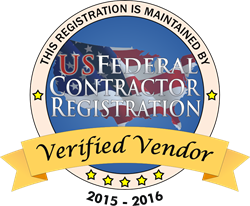 Washington D.C. (PRWEB) February 26, 2015
The United States Federal Government as of 02/25/2015 has 1,454 open Solicitations in Virginia where they are currently seeking out properly registered government contractors. The Federal Government awarded 196,012 contracts in Virginia for over 52 billion dollars in 2014 alone. Please see the below available contract released by US Federal Contractor Registration, additional Virginia contracts can be found at https://www.uscontractorregistration.com.
US Federal Contractor Registration is reporting the release of the Squad X Core Technologies Solicitation in Virginia posted to FedBizOpps (FBO) on February 25, 2015. The Squad X Core Technologies Solicitation has a response date of April 10, 2015 for any vendors looking to respond. Every business interested in bidding on the Squad X Core Technologies Solicitation must be properly registered in System for Award Management (SAM), as well as have the North American Industry Classification System codes 541712 - Research and Development in the Physical, Engineering, and Life Sciences (except Biotechnology), and 541 - Professional, Scientific, and Technical Services filed in their SAM account/vendor profile.
Below is a copy of the Squad X Core Technologies Solicitation as originally posted to FedBizOpps (FBO) on February 25, 2015:
By the issuance of the subject Broad Agency Announcement (DARPA-BAA-15-26), DARPA is soliciting innovative research proposals for the Squad X Core Technologies (SXCT) program. The objective of the SXCT program is to develop and deliver new technologies that give dismounted squads increased situational awareness and enable them to dominate their battlespace. The goal is to build combat power from the rifle squad up, allowing forces to be adaptable and flexible across the range of military operations. This will be accomplished through research and development of novel technology solutions that advance the capabilities of the squad. Refer to the attachment, "DARPA-BAA-15-26," for complete details of the BAA.
Added: Feb 25, 2015 10:45 am. A SCG Request Form and an editable MS Excel Cost Proposal Spreadsheet is attached to the original solicitation.
DARPA uses personal information (including Social Security numbers (SSNs)) to conduct record checks with other U.S. Government agencies to determine the identity, citizenship status, and eligibility of individuals seeking access to DARPA BAA Addendum. All requests for personal information are made under appropriate authority. Note that due to the risk of data loss or breach, requestors should consider applying appropriate technical safeguards to protect their personal information before transmitting this form electronically. Once received by DARPA, personal information will be subject to role-based access controls and safeguarded using appropriate physical, administrative, and technical protocols.
Businesses that would like to learn how to bid on available opportunities or register in SAM can call Acquisition Specialist Jonathan Maness at 1(877) 252-2700 Ext 739. Vendors have been enrolling in the Simplified Acquisition Program to win available government contracts, network with procurement officers across the nation, and qualify their business for government contracting. Businesses that would like to learn more about the Simplified Acquisition Program can visit http://www.simplifiedacquisitionprogram.org/.