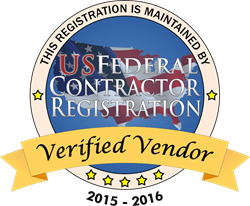 Orlando, FL (PRWEB) March 04, 2015
The United States Federal Government as of 03/03/2015 has 90 open Solicitations in Idaho where they are currently seeking out properly registered government contractors. The Federal Government awarded 9,706 contracts in Idaho for over 2 billion dollars in 2014 alone. Please see the below available contract released by US Federal Contractor Registration, additional Idaho contracts can be found at https://www.uscontractorregistration.com.
US Federal Contractor Registration is reporting the release of the Radio Antennas Solicitation in Idaho posted to FedBizOpps (FBO) on March 3, 2015. The Radio Antennas Solicitation has a roaming response date not yet listed. The Radio Antennas Solicitation has an archive date set for July 1, 2015. Every business interested in bidding on the Radio Antennas Solicitation must be properly registered in System for Award Management (SAM), as well as have the North American Industry Classification System codes 334220 - Radio and Television Broadcasting and Wireless Communications Equipment Manufacturing, and 334 - Computer and Electronic Product Manufacturing filed in their SAM account/vendor profile.
Below is a copy of the Radio Antennas Solicitation as originally posted to FedBizOpps (FBO) on March 3, 2015:
The purpose of this solicitation is to secure radio antennas designed to fit a Bendix King Radio. The solicitation will result in a single award contract. The North American Industry System code is 334220 and the small business size standard is 750 Employees. This is a commercial acquisition; therefore, award will be made in accordance with Federal Acquisition Regulation (FAR) Part 12. This acquisition is a competitive small business set-aside.
The solicitation will be issued today via the FedBizOpps website. Any amendments will be posted on FBO as well. Paper copies of the solicitation and amendments will not be mailed and no telephone requests for the solicitation will be accepted. Businesses can find instructions on how to create a profile on FedBizOpps (FBO) by downloading the free FBO packet located on GovernmentContractingTips.com.
Registration requires a D-U-N-S Number from Dun and Bradstreet and may take up to three weeks to process. Recommend registering immediately in order to be eligible for timely award. Vendors must have a valid D-U-N-S Number. Register in the System for Award Management (SAM) and complete the Online Representations and Certifications Application in SAM as stated in the solicitation. US Federal Contractor Registration is the world's largest third party registration firm that has registered over 65,000 businesses in the SAM registration.
Businesses that would like to learn how to bid on available opportunities or register in SAM can call Acquisition Specialist Jonathan Maness at 1(877) 252-2700 Ext 739. Vendors have been enrolling in the Simplified Acquisition Program to win available government contracts, network with procurement officers across the nation, and qualify their business for government contracting. Businesses that would like to learn more about the Simplified Acquisition Program can visit http://www.simplifiedacquisitionprogram.org/.