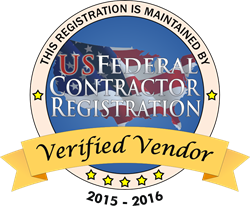 Washington D.C. (PRWEB) March 11, 2015
US Federal Contractor Registration has been innovating the government registration market for over 5 years now. They have registered over 65,000 businesses in System for Award Management (SAM) and have successfully helped vendors win billions in government contracts. US Federal Contractor Registration reviews show several businesses that have won millions of dollars thanks to their comprehensive government marketing solutions. Some of these marketing solutions include Nation Wide Marketing Programs, National Awareness Campaigns, Regionally Focused Marketing Programs and even the highly recognized Simplified Acquisition Program. Due to the success of the Simplified Acquisition Program, US Federal Contractor Registration has incorporated a GSA Schedule paperwork filing with the marketing advances of the Simplified Acquisition Program, resulting in the creation of the GSAP.
The GSAP is a pay-by-month marketing plan that allows businesses to begin marketing their services to government buyers while awaiting the competition of their GSA Schedule. GSA Schedule filings can take as long as a year to be competed depending on the specific schedule and the time it takes to receive active federal approval. US Federal Contractor Registration likes to streamline the process and give vendors the opportunity to win government contracts while their GSA Schedule is processing. This method allows businesses to gain that much needed Past Performance for their Government Capability Statement and establishes creditability while submitting GSA Schedule information.
The Simplified Acquisition Program is a key component of the GSAP that gives business owners the tools needed to network with government buyers, display their federal resume online, have a profile in a government small business database and expand their general marketing reach.
Every GSAP comes complete with the following federal professional services:

System for Award Management Registration Completion
Verification of Dun & Bradstreet Number
Dynamic Small Business Search Creation
Government Contractor Submission
FEMA Vendor Profile Creation
Completion of Pathways to Success Certificate
Completion of Readiness Assessment (signed copy)
Past Performance Evaluation
Verification of Financial Statements
Balance Sheet
Income Statement
Creation of GSA Formatted Pricing List to
Includes Special Item Numbers (SIN's), product/service/training/labor category offered, description, commercial price list, Most Favored Customer (MFC), Discount offered to MFC,MFC Offered Pricing, and Discount offered to GSA.
Submission of Discount Proposal Spreadsheet
Technical Data Verification of Business Account History
Submission of Company's Relevant Project Experience
GSA Course Training Description Walkthrough
Provided Description of all GSA Labor Categories
If applicable, Certification of Small Business Subcontracting Plan
Simplified Acquisition Marketing Campaign Creation
Creation of Government-Formatted Company Website
Investing in US Federal Contractor Registration's full service plan prepares a contractor for all that is ahead. The full service includes yearlong technical support, annual SAM migration updates, added to the USFCR federal buyer newsletter, creation of a FEMA Vendor profile, grant assistance if needed, NAICS code research and the highly recognized Verified Vendor Seal of Approval.
US Federal Contractor Registration Testimonials include Fortune 500 companies like McGraw Hill, HP, Wells Fargo, Xerox, GoodWill, Dixie, UPS, Heinz, Sheraton Hotels, Marriott, Westin, Interstate Oil, CITI, and Coldwell Banker. As well as academic institutions and colleges like NYC, Northwestern, Oxford, Southwestern, and Mercer. Numerous federal agencies like US Army, US Navy, Veteran Affairs and United States Department of Agriculture have also had their government paperwork facilitated by US Federal Contractor Registration Case Managers.