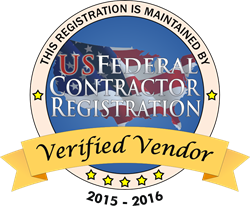 Washington D.C. (PRWEB) March 27, 2015
The United States Federal Government as of 03/26/2015 has 283 open Solicitations in Arizona where they are currently seeking out properly registered government contractors. The Federal Government awarded 37,351 contracts in Arizona for over 10 billion dollars in 2014 alone. Please see the below available contract released by US Federal Contractor Registration, additional Arizona contracts can be found at https://www.uscontractorregistration.com.
US Federal Contractor Registration is reporting the release of the Agent Portable Surveillance System Contract in Arizona posted to FedBizOpps (FBO) on March 26, 2015. The Agent Portable Surveillance System Contract does not have a response date yet posted or an archiving date set on FedBizOpps (FBO) at this point in time. Every business interested in bidding on the Agent Portable Surveillance System Contract must be properly registered in System for Award Management (SAM), as well as have the North American Industry Classification System codes 334511 - Search, Detection, Navigation, Guidance, Aeronautical, and Nautical System and Instrument Manufacturing, and 334 - Computer and Electronic Product Manufacturing filed in their SAM account/vendor profile.
Below is a copy of the Agent Portable Surveillance System Contract as originally posted to FedBizOpps (FBO) on March 26, 2015:
CBP currently deploys an effective mix of fixed and mobile sensors to enhance situational awareness through border surveillance between ports of entry. Among the mobile sensor capabilities is a limited number of Army-developed Cerberus Scout-Light systems, referred to as Agent Portable Surveillance System (APSS), that were acquired for purposes of a technology demonstration. CBP intends to replace these with a more versatile and effective re-locatable capability, as described below.
A capability shortfall exists in areas where causes such as terrain masking or sudden changes in border incursion routes create blind spots in the surveillance network. To reduce and eliminate such blind spots, CBP has a need for a modular agent-portable surveillance system (APSS), using sensors which may include radar, infrared camera, electro-optical camera, and associated components, to fill in temporary surveillance gaps.
This RFI seeks to obtain information from industry about potential systems that will provide CBP with insight into market conditions, capabilities, and/or scientific advances that will aid in the formation of an acquisition strategy and the refining of the functional requirements for a new APSS-like system. The desired system will enable detection, tracking, identification, and classification of illegal incursions. The system is expected to provide Border Patrol Agents (BPA) with improved situational awareness between Ports of Entry (POE) by reducing detection and surveillance gaps along the borders and should assist BPAs in responding to and resolving such incursions.
Additionally, this RFI is designed to assist CBP in making a set-aside determination as required by FAR 19.5. Since the determination has not yet been made, CBP encourages all potential offerors, both large and small, to participate in the Request for Information. CBP is interested in obtaining information on commercial and non-developmental systems which are currently existing, fully developed, and integrated portable surveillance systems to provide the desired capability, and not systems in the developmental phase. CBP values an open systems approach. CBP desires RFI responses from current APSS candidates that meet, at a minimum, Technology Readiness Level 7 and Manufacturing Readiness Level 7 and to reach maturity within one year. There is no intent to develop any systems under this program.
Businesses that would like to learn how to bid on available opportunities or register in SAM can call Acquisition Specialist Mark Georges at 1(877) 252-2700 Ext 735. Vendors have been enrolling in the Simplified Acquisition Program to win available government contracts, network with procurement officers across the nation, and qualify their business for government contracting. Businesses that would like to learn more about the Simplified Acquisition Program can visit http://www.simplifiedacquisitionprogram.org/.