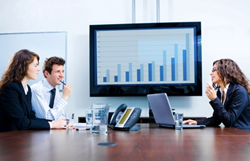 Washington D.C. (PRWEB) March 31, 2015
Verified Vendor Complete Solutions Technologies LLC (Moorestown, NJ) recently enrolled in the Simplified Acquisition Program and began a National Marketing Campaign with US Federal Contractor Registration in an effort to begin winning government contracts. US Federal Contractor Registration conducted the required qualification process with Complete Solutions Technologies LLC prior to renewing their SAM Registration. Businesses that wish to expand their federal portfolio and apply government marketing solutions in the federal marketplace choose to use US Federal Contractor Registration. US Federal Contractor Registration provides the same tools and strategies Fortune 500 companies use for networking with government buyers and bidding on solicitations.
Acquisition Specialist Robert Renzella of US Federal Contractor Registration assisted Complete Solutions Technologies LLC with the government contracting qualification process. During the qualification process, Robert reviewed their federal competition rate, found available contracts and government spending trends in their industry. After the process was completed, it was determined that the Simplified Acquisition Program and a National Marketing Campaign would be the best solution to promote their services. Each of these specialized marketing programs are designed to help businesses network with government buyers, develop brand awareness, and win available simplified acquisition contracts/micro-purchases.
About Complete Solutions Technologies LLC
Complete Solutions Technologies manufactures and distributes a complete array of products for surgical instrument care. Their primary focus is VA Medical Centers (VAMC) and related government facilities that require specialized cleaning of surgical instruments and laboratory glassware. The cleaning applications include manual and ultrasonic procedures, automatic washers (washer/disinfectors) and cart washing.
Products include:

Enzymatic Foam Sprays
Multi Enzymatic Detergent Cleaners
Alkaline Cleaners
Neutralizers
Neutral pH Detergents
Lubricant, Clear & Milk
Cart Wash
Cart Rinse & Drying Agent
Powder Cleaners
Advanced Multi-Enzymatic Detergent Cleaners and Neutral pH Detergents are available with regular foam for manual and ultrasonic procedures and low foam for machine cleaning. Sizes include 4×1 gallon; 5 gallon, 15 gallon, and 30 gallon drums. Alkaline Detergent, an instrument detergent for automatic washers, is available in 5 gallon, 15 gallon, and 15 gallon drums. Lubricant for use in automatic washers is available in 5 gallon, 15 gallon, and 30 gallon drums. Super Concentrates for automatic washers include Alkaline Detergent, Neutralizer, and Lubricant and Neutral pH Detergent available in 4×1 gallon, 2 x 2 1/2 gallon, 5 gallon, 15 gallon and 30 gallon drums.
Neutralizer neutralizes alkaline detergents in automatic washers available in 5 gallon, 15 gallon, and 30 gallon drums.Instrument Lubricant (milk) for manual and machine use is available in 4×1 gallon, 5 gallon, 15 gallon, and 30 gallon drums. Cart Wash Detergent and Cart Rinse & Drying Agent for all brands of cart washers are available in 5 gallon, 15 gallon, 30 gallon, and 55 gallon drums. Powder Cleaners for manual and ultrasonic cleaning and low foam for all brands of automatic washers are available.
Complete Solutions Technologies LLC Federal Vendor Profile
DUNS: 069382989
CAGE: 4TZL1
Active in SAM; Registration valid until 02/12/2016
Small Business
North American Industry Classification System (NAICS) codes
325611 - Soap and Other Detergent Manufacturing
325612 - Polish and Other Sanitation Good Manufacturing
325613 - Surface Active Agent Manufacturing
Federally Formatted Website: http://www.cstllcgov.com/
Prime vendors and Procurement Officers interested in contacting Complete Solutions Technologies LLC for contracting opportunities can contact Pete Perry at (856) 234-7392 or by email at peteperry@cstllc.com.
Businesses can also call Acquisition Specialist Robert Renzella at 1(877) 252-2700 Ext 767 to begin marketing a business in the federal marketplace. Interested vendors can read more about the Simplified Acquisition Program at http://www.simplifiedacquisitionprogram.org/.