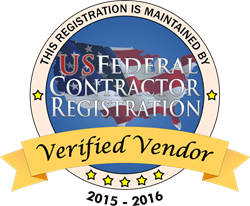 Washington D.C. (PRWEB) April 14, 2015
Franconia Real Estate Services, Inc. (Woodbridge, VA) has been a Verified Vendor with US Federal Contractor Registration since July 2013. Under the guidance of US Federal Contractor Registration Acquisition Specialist Jonathan Maness, Franconia Real Estate Services, Inc began a National Marketing Campaign designed to network with procurement officers across the country and ultimately win contracts. Since beginning the National Marketing Campaign, Franconia Real Estate Services, Inc has been awarded 43,945,083 in government contracts, which include five government contracts from the United States Secret Service totaling $24,187,500 alone.
Acquisition Specialist Jonathan Maness of US Federal Contractor Registration, assisted Franconia Real Estate Services Inc with their initial government contracting qualification process. After reviewing their federal competition rate, related government spending trends, available contracts, and federal set-aside requirements, it was determined that a National Marketing Campaign was the best solution to generate more business and connect with government buyers
About Franconia Real Estate Services Inc DBA Allegiance Relocation Services:
Franconia Real Estate Services Inc DBA Allegiance Relocation Services has the ability to provide total relocation support to any company, agency, or military operation. Their services can be tailored from complete outsourcing to cafeteria style so customers can pick and choose the services they need. Their RMX TRACKER and FED TRACKER online applications allow customers to see real-time data on the progress and costs associated with their moves and will keep them compliant with Chapter 302 FTR requirements. Franconia Real Estate Services Inc DBA Allegiance Relocation Services streamlined service delivery model is unparalleled in the industry and helps government and corporate clients accomplish three important goals: provide exemplary customer care for employees and families, secure exceptional value through lower costs and higher quality service, and allow government and corporate clients to keep focused on their core mission.
Franconia Real Estate Services Inc DBA Allegiance Relocation Services helps its clients realize their employee care and cost savings goals through a breadth of services, offered individually or integrated, and packaged as a "one-stop shopping experience." Relocation involves a myriad of choices and decisions, often without adequate information or time in which to act wisely. Given the complexity and potential pitfalls in the relocation process, employees need a neutral advocate who can provide advice and ensure competitive pricing, efficient processes, and optimal service. RARS relocation managers serve as personal advocates for each relocating employee from start to finish.
Franconia Real Estate Services Inc Vendor Profile
DUNS: 605826197
CAGE: 1RKC7
Active in SAM; Registration valid until 09/23/2015
Woman Owned Business
North American Industry Classification System (NAICS) codes
484210 - Used Household and Office Goods Moving
531210 - Offices of Real Estate Agents and Brokers
531311 - Residential Property Managers
531390 - Other Activities Related to Real Estate
541511 - Custom Computer Programming Services
541614 - Process, Physical Distribution, and Logistics Consulting Services
561110 - Office Administration Services
561499 - All Other Business Support Services
812990 - All Other Personal Services
923130 - Administration of Human Resource Programs (Expect Education, Public Health, and Veterans' Affairs Programs)
Prime vendors and Procurement Officers interested in contacting Franconia Real Estate Services Inc for contracting opportunities can contact President Peggy Pastore at (703) 586-9434 or by email at peggy.pastore(at)allegiancerelo(dot)com.
Businesses can also call Jonathan Maness at 1(877) 252-2700 Ext 739 to qualify for government contracting or to begin a National Marketing Campaign.