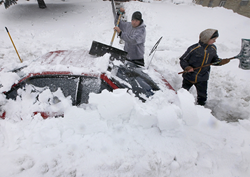 Washington D.C. (PRWEB) April 22, 2015
The Federal Emergency Management Agency (FEMA) along with the office of the President has declared a disaster in the state of Georgia. After a severe winter storm from February 15-17, 2015, multiple locations in Georgia have been in need of federal assistance. Federal disaster assistance funds have now been made available for government contractors looking to win available FEMA Contracts. As stated in a release by the Department of Homeland Security, "The President's action makes federal funding available to state and eligible local governments and certain private nonprofit organizations on a cost-sharing basis for emergency work and the repair or replacement of facilities damaged by the severe winter storm in Banks, Barrow, Dawson, Elbert, Forsyth, Franklin, Habersham, Hall, Jackson, Lumpkin, Madison, Oglethorpe, Pickens, Stephens, and White counties." US Federal Contractor Registration is encouraging businesses to become registered in the SAM Registration and become an official FEMA Contractor. Businesses can call (877) 252-2700 Ext 1 to receive an Industry Liaison Program Vendor Profile document.
The US Federal Contractor Registration FEMA Contracts video on Youtube is also a helpful source when getting started as s government contractor. Contractors can find all the information they need to know about preparing as a government contractor for natural disaster relief. Businesses can also learn about obtaining advanced certifications such as the Corps of Engineers Contractor Registries, Joint Housing Solutions Group, Debris Removal Accreditation, and National Flood Insurance Program Adjuster. US Federal Contractor Registration encourages vendors to renew their government registration at least every 12 months in order to stay in compliance with the General Services Administration (GSA).
US Federal Contractor Registration has assisted thousands of businesses with their government registration and FEMA registration to assist in the disaster relief efforts of Hurricane Sandy, Tropical Storm Dolly, the Winter Storm of 2014, 2013 Colorado Flood, Oklahoma Tornado, Tropical Storm Isaac and many more. US Federal Contraction Registration is the world's largest third party registration firm that has registered over 65,000 businesses in System for Award Management (SAM), and the previous contractor registration database of CCR/ORCA. Businesses can have a professional Acquisition Specialist from US Federal Contractor Registration help determine if their business is prepared for government contracting and qualified for the federal marketplace.
Businesses that wish to learn more about FEMA contracts can download the free FEMA Beginners Contractor Packe t off of the GovernmentContractingTips.com website. Our FEMA packet is an informative collection of articles and information designed to help businesses get a head-start on the contracting competition. Vendors interested in learning how to bid on available contracts and becoming eligible for government contracts can call US Federal Contractor Registration Acquisition Specialist Robert Renzella at (877) 252-2700 Ext 767 or visit http://www.FEMAContracts.com to learn more about FEMA registration.