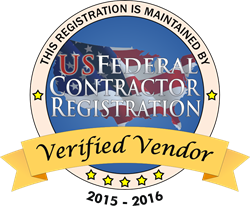 Washington D.C. (PRWEB) April 24, 2015
System for Award Management (SAM) is the main database in which contractors must be entered in order to work for the United States Federal Government. If is federally mandated by law that every business that wishes to work for the United States Federal Government become properly registered in SAM. The General Services Administration (GSA) oversees SAM and requires every business to renew their registration every 12 months. Any changes to a business's company status, address, management changes, etc must be updated to remain compliant in SAM. Contractors need to meet government renewal standards at all times to make sure their business is always eligible to receive available government contracts. If a procurement officer is given any reason to assume a contractor's SAM was not properly filed or is missing any data they will move on to the next candidate. US Federal Contractor Registration sends out annual registration renewal reminds in an effort to make sure their 65,0000 clients stay complaint.
1. Set Calendar Reminders
Set calendar reminders on your computer or email account. It is encouraged to set these reminders at least 90 days in advance to avoid any problems with renewal submission. Vendors who are both new and old to government contracting must make sure their business is fully updated when actively pursuing government awards. Creating calendar reminds can sometimes the best way to remember ahead of time.
2. Conduct Quarterly Renewal Meetings with Your Case Manager
A US Federal Contractor Registration Case Manager is in charge of maintaining a business's SAM registration. Calling them to set up quarterly meetings to update information or add/remove NAICS codes can be extremely important as a business develops in the federal marketplace. As businesses grow in size and experience in government contracting they develop a better understanding of the renewal process. Businesses can call 877-252-2700 Ext 1 to set up their first initial meeting with a Case Manager.
3. Renew at Least 60 Days in Advance
Contractors who are currently registered in SAM should renew their government registration 90 days in advance. However, 60 days in advance is the minimum amount of time a business should wait to renew. If a business waits 30 days before expiration or even 15 days before expiration there is a chance SAM will not update the information in time to keep the same recorded date. Businesses that renew 60 days in advance provide enough time for SAM and US Federal Contractor Registration Case Managers to renew the account. Vendors who have active contracts or potential contracts on the table should not risk delaying their registration.
US Federal Contractor Registration provides complete full service technical assistance for the SAM registration. As well as comprehensive government marketing strategies and solutions to help businesses network with government buyers across the nation. New businesses that have questions about SAM Registration renewal or initial enrollment can call Acquisition Specialist Tammy Helgren at 877-252-2700 Ext 718 to get started. Vendors who would like to start contacting procurement officers for available contracts can learn more about the Simplified Acquisition Program at http://www.simplifiedacquisitionprogram.org/.