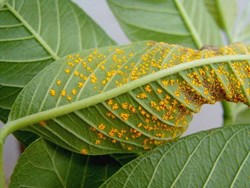 "This disease threatens to impact commercial forestry that relies on eucalypts and other horticultural and forestry applications that rely on myrtaceous species"
Fort Collins, Colorado (PRWEB) November 15, 2013
For the past century, scientists have widely accepted the hypothesis that a rust disease found on guava jumped from guava to eucalyptus trees imported into Brazil in the early 1900s. A new study, published in the journal of Molecular Ecology, refutes this hypothesis with definitive proof that the rust disease on eucalypt did not originate from guava, but further research is needed to pinpoint the actual source of the eucalypt rust. The findings are the culmination of a collaborative study using molecular markers and genetic analyses conducted by an international team of scientists led by Prof. Acelino C. Alfenas and Dr. Rodrigo Neves Graça from Brazil's Universidade Federal de Viçosa, Prof. Tobin Peever of Washington State University, the U.S. Forest Service, and Prof. Mee-Sook Kim of Kookmin University in Seoul, Korea.
The rust disease (aka guava rust, eucalypt rust and myrtle rust), caused by Puccinia psidii was first reported in 1884 on guava in Brazil and subsequently found on native and introduced (e.g., eucalypts, rose apple) hosts in the early 1900s. It also showed up in other South and Central American countries. Jamaica reported a similar rust disease in 1934 where it devastated the allspice industry. Over the years, the rust continued to show up in other Caribbean countries, the United States (California, Florida and Hawaii), Japan, Australia, China, and most recently South Africa and New Caledonia.
The rust disease infects diverse myrtaceous species found in tropical and subtropical regions. Myrtaceae – or myrtle family – is a complex family of trees and shrubs with more than 5,000 species including eucalypts, guava, cloves, allspice and rose apple.
"This rust disease is of international concern for myrtaceae, which are endemic to many areas of the Southern Hemisphere and Pacific Islands. Furthermore, this disease threatens to impact commercial forestry that relies on eucalypts and other horticultural and forestry applications that rely on myrtaceous species," said Ned Klopfenstein, research plant pathologist with the U.S. Forest Service Rocky Mountain Research Station.
Klopfenstein, Peever, and fellow RMRS collaborator Dr. Amy Ross-Davis will continue to participate in the international collaborative effort to genetically characterize rust pathogens from around the world. The objectives of the studies will focus on determining how the rust pathogens are spreading, searching for the potential origin of these pathogens, and determining what other geographic areas are at risk from invasion by the rust pathogen.
A copy of the study is available at http://www.treesearch.fs.fed.us/pubs/45171.
The Rocky Mountain Research Station is one of seven regional units that make up the U.S. Forest Service Research and Development organization – the most extensive natural resources research organization in the world. The Station maintains 12 field laboratories throughout a 12-state territory encompassing the Great Basin, Southwest, Rocky Mountains, and parts of the Great Plains, and administers and conducts research on 14 experimental forests, ranges, and watersheds, while maintaining long-term databases for these areas. RMRS research is broken into seven science program areas that serve the Forest Service as well as other federal and state agencies, international organizations, private groups and individuals.
###
USDA is an equal opportunity provider and employer. To file a complaint of discrimination, write: USDA, Office of the Assistant Secretary for Civil Rights, Office of Adjudication, 1400 Independence Ave., SW, Washington, DC 20250-9410 or call (866) 632-9992 (Toll-free Customer Service), (800) 877-8339 (Local or Federal relay), (866) 377-8642 (Relay voice users).