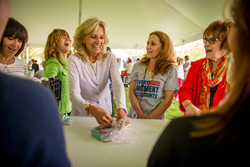 These Mother's Day gift boxes are just one way we say thank you to a very special segment of our military family
Arlington, VA (PRWEB) May 02, 2014
Today, the USO and Full Circle Home created 2,000 special Mother's Day surprises for military moms, wives and women important in the lives of deployed troops. Dr. Jill Biden welcomed congressional and senior military spouses to her home, where everyone joined to assemble the Full Circle Home gift boxes.
Each gift box contains items that help military women feel pampered, including items such as necklaces and lotions, but most importantly each package will contain a personalized note from their deployed troop. The USO and Full Circle Home will deliver the gift boxes for deployed troops who requested to have a special woman in their life surprised on Mother's Day.
"These Mother's Day gift boxes are just one way we say thank you to a very special segment of our military family," said USAF Brigadier General (Ret.) John I. Pray, Jr., USO President and CEO. "From enduring long periods of separation to taking on extra responsibilities when their loved ones are away, our nation's military wives and mothers play a vital role in keeping our military community strong and resilient. We want to take this moment to show our deep appreciation for all they do."
Since the inaugural Mother's Day service project in 2012, the USO and Full Circle Home have distributed more than 3,500 gift boxes that create memorable moments for deployed troops and their families. This is the second time that Dr. Biden has opened her home to support the program. When the partnership launched in 2012, First Lady Michelle Obama and Dr. Biden helped stuff the gift boxes alongside congressional spouses.
Dr. Biden started the Joining Forces initiative in 2011 with the First Lady to ask Americans to find ways to support our service members and military families. Joining Forces focuses on three key issues facing military families – education, employment and wellness. The USO partners with the White House Joining Forces initiative to strengthen military families around the world.
"It's so nice that as we come upon Mother's Day that we are packing boxes for mothers," said Dr. Biden. "It was one tough year to have my son deployed…. I hope we bring smiles to their faces. I want our troops to know we're thinking of them each and every day. We are supporting them. So, I hope they feel the love from all of us."
Full Circle Home Founder and Executive Director Vickie Durfee and Director Lisa Miller were also there to assemble packages so that deployed troops have a way to connect with the important women in their lives on Mother's Day.
"It's an honor to be able to support our troops and the quiet heroes at home," said Vickie Durfee, Director of Full Circle Home. "They are the foundation of what makes our nation great and their commitments and sacrifices allow us the freedoms to care more - and do more - as individuals and as a country. The troops tell us that the most important thing we can do for them is to recognize and support their loved ones. The women at home serve alongside of their service members and quietly accept the challenges of a deployment. To acknowledge, honor and celebrate her, she is empowered and lifted, and it has a ripple effect across her family and our community."
Click here to view photos from the event. For more information about the USO and to find out how you can show support our nation's troops and their families, visit us online at http://www.uso.org.
To learn more about the Joining Forces initiative, visit joiningforces.gov, like Joining Forces on Facebook and follow @joiningforces on Twitter. For more information about Full Circle Home visit fullcirclehome.org and check them out on Facebook and on Twitter @FullCircleHome1.
# # #
About the USO
The USO lifts the spirits of America's troops and their families millions of times each year at hundreds of places worldwide. We provide a touch of home through centers at airports and military bases in the U.S. and abroad, top quality entertainment and innovative programs and services. We also provide critical support to those who need us most, including forward-deployed troops, military families, wounded warriors and families of the fallen. The USO is a private, non-profit organization, not a government agency. Our programs and services are made possible by the American people, support of our corporate partners and the dedication of our volunteers and staff.
In addition to individual donors and corporate sponsors, the USO is supported by President's Circle Partners: American Airlines, AT&T, Clear Channel, The Coca-Cola Company, Grand Canyon University, jcpenney, Jeep, Kangaroo Express, Kroger, Lowe's, Northrop Grumman Corporation, Procter & Gamble and TriWest Healthcare Alliance and Worldwide Strategic Partners: BAE Systems, The Boeing Company, Lockheed Martin, Microsoft Corporation and TKS Telepost Kabel-Service Kaiserslautern GmbH & Co. KG. We are also supported through the United Way and Combined Federal Campaign (CFC-11381). To join us in this patriotic mission, and to learn more about the USO, please visit uso.org.
About Full Circle Home
Full Circle Home is an American non-profit organization whose goal is to support the special women of our Armed Service members during their separation from loved ones deployed overseas. Through donations and corporate partnerships, Full Circle Home arranges for gift boxes to be sent on behalf of service members to the home front. These boxes, filled with a variety of pampering products, and most importantly, a note from their deployed loved one, help to comfort and support military wives and mothers during heart-wrenching separation.
Working primarily around the winter holiday season and Mothers' Day, Full Circle Home accepts requests from service members, solicits contents for the gifts, wraps them, and ships them off to the surprised and delighted women of our service members. Started in 2007 by Vickie Durfee, the mother of a marine, Full Circle Home has organized volunteers to send thousands of gift boxes to women across the United States and military bases around the world.
For more information about Full Circle Home visit fullcirclehome.org.