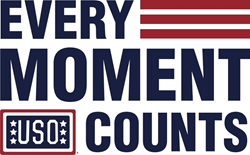 Every signature on the Every Moment Counts flag is a symbol of a grateful nation's appreciation for all that our men and women in uniform and their families do for us on a daily basis," says J.D. Crouch II, USO President and CEO
Arlington, VA (PRWEB) September 08, 2014
With signatures gathered from all fifty states and seven countries, the USO announces it has broken the Guinness World Records® title for most signatures on a flag with 115,405 gathered digitally and in-person around the globe. The USO shattered the current record set in 2012 by more than 82,132 signatures. As part of its Every Moment Counts campaign, the USO rallied Americans to show support for troops and their families through the simple act of saying thank you with their signature.
The larger than life Every Moment Counts flag measures 80 foot by 120 foot, weighs 350 pounds and features 140 signature panels with each panel able to hold up to 1,440 signatures. The 115,405 signatures are a special thank you for our military and their families – a visible act of gratitude for all they have done for our nation.
In celebration of the Guinness World Records title, the USO Every Moment Counts flag will be revealed to troops and their families on a special three-city flag tour beginning on September 11, 2014 at the Great American Ballpark in Cincinnati, Ohio before the Cincinnati Reds play the St. Louis Cardinals at 12:35pm EST. This first stop will highlight the USO's record breaking status when the Guinness Adjudicator presents the USO with the official certificate naming the military nonprofit as the new world record holder.
Alex Angert, a Guinness World Records official, commented, "This record proves the galvanizing effect of a great group attempting an inspirational achievement. The Every Moment Counts campaign already benefited a tremendous cause in supporting our nation's troops. But it showed that — whether you're stationed abroad, are a celebrity at home, or a family member of one of our great military personnel — working toward a world record is something that can bring hundreds of thousands of people together for a common goal."
"Every signature on the Every Moment Counts flag is a symbol of a grateful nation's appreciation for all that our men and women in uniform and their families do for us on a daily basis," says J.D. Crouch II, USO President and CEO. "Setting a new Guinness World Records® title is a special moment that we could not have accomplished without the support of Americans around the globe. We thank all those who joined the USO in making this milestone possible, and to all those who help us create special moments for our troops and their families every day."
The second tour stop for the flag is September 13th in Foxborough, MA, at Gillette Stadium when soccer team New England Revolution plays the Montreal Impact at 7:30 pm EST. The Every Moment Counts flag makes its third tour stop on September 28th in Dover, DE, at the NASCAR Sprint Cup Series at Dover International Speedway.
Signatures were tallied and certified by an independent public accounting firm, Grant Thornton LLP, at the close of the eligible signing period and the 80 foot by 120 foot Every Moment Counts flag was assembled by Colonial Flag in Sandy, Utah. In a process that took more than 300 hours, the Colonial Flag team of five individuals with 141 total years of experience used over five miles of thread to sew the flag together.
Background on the Every Moment Counts Campaign and Flag Origin
Between May 1st and May 31st, 2014, the USO asked Americans to join them by signing the one-of-a-kind, large-scale Every Moment Counts flag digitally on USOmoments.org or in-person at events around the globe. The 140 individual flag panels made stops at select events including the Coca-Cola 600 NASCAR race, Build-A-Bear Workshop® "Celebrating Heroes" events in New York City, Chicago, St. Louis, Los Angeles and Washington D.C. and 52 USO locations around the world. Additionally, Johnson & Johnson, the Official Healthcare Partner of the USO, and its active employee resource group for veterans, the Veterans Leadership Council, took to a number of their campuses to collect signatures for the flag and show their overwhelming support for our troops and their families. Of the over 115,000 signatures gathered along the flag's journey from as far away as Japan, there were over 28,000 active duty troops and 45 celebrities including USO tour veterans Toby Keith and Jordin Sparks, NASCAR drivers Jeff Gordon and Dale Earnhardt Jr., and Sesame Street's Cookie Monster and Elmo, who lent their signature to break the Guinness World Record®.
Every Moment Counts is a national campaign to rally Americans to honor and create moments that matter for our troops and their families. By clearly communicating the significance of these moments, and humanizing their impact on families, the USO can help shift the civilian perspective on military service and inspire Americans to help show their gratitude to our troops and their families. The campaign invites Americans to join the USO in honoring and creating moments that count by visiting USOmoments.org and allowing them to donate or send a message of thanks and give their gratitude for our troops.
For more information on Every Moment Counts, please visit USOmoments.org or join the conversation on Facebook or Twitter using #USOmoments. To obtain USO photos, video and logo please visit: uso.box.com/EMC.
About the USO
The USO lifts the spirits of America's troops and their families millions of times each year at hundreds of places worldwide. We provide a touch of home through centers at airports and military bases in the U.S. and abroad, top quality entertainment and innovative programs and services. We also provide critical support to those who need us most, including forward-deployed troops, military families, wounded warriors, troops in transition and families of the fallen. The USO is a private, non-profit organization, not a government agency. Our programs and services are made possible by the American people, support of our corporate partners, and the dedication of our volunteers and staff.
In addition to individual donors and corporate sponsors, the USO is supported by President's Circle Partners: American Airlines, AT&T, BNSF Railway, Clark Construction Group, LLC, The Coca-Cola Company, Grand Canyon University, JCPenney, Jeep, Johnson & Johnson, Kroger, Northrop Grumman Corporation and TriWest Healthcare Alliance and Worldwide Strategic Partners: BAE Systems, BIC, The Boeing Company, ConAgra Foods, FedEx, Harris Teeter, Lockheed Martin, Microsoft Corporation, Procter & Gamble, TKS Telepost Kabel-Service Kaiserslautern GmbH & Co. KG and Wawa Inc. We are also supported through the United Way and Combined Federal Campaign (CFC-11381). To join us in this important mission, and to learn more about the USO, please visit uso.org.
About Guinness World Records™
Guinness World Records (GWR) is the universally recognized global authority on record-breaking achievement. First published in 1955, the annual Guinness World Records book has gone on to become one of the best-selling titles of all time, with 2.8 million copies sold in 2013. Since its launch nearly 60 years ago, over 132 million copies – and 3 million e-books - have been sold in 20 languages, in more than 100 countries. The internationally renowned brand is also available across a number of platforms; Guinness World Records global television shows are watched by over 750 million viewers annually, over half a million subscribe to the GWR YouTube channel, the global website receives 14 million viewers annually and the brand has over 4 million fans on Facebook. In 2013, Officially Amazing became the registered trademark of Guinness World Records Limited.