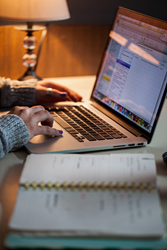 "Acquiring a degree as a non-traditional student seemed unattainable. As an adult we wear many hats and live very busy lives outside of the academic realm." ~ Emily Blevins, U|SUCCEED student
Barbourville, Ky. (PRWEB) September 29, 2015
Union College's online degree completion program - U|SUCCEED is designed for career conscious adults that understand life happens.
Launched in the fall semester of 2015, the program offers convenient eight-week program cycles, letting adult students begin classes when life gives them a moment. Students, like Emily Blevins, can continue at their own pace – meaning busy adults can earn a degree in as little as 18 months or the program works around their schedule, allowing more time to meet educational and career goals.
"Acquiring a degree as a non-traditional student seemed unattainable," Blevins said. "As an adult we wear many hats and live very busy lives outside of the academic realm. I was taking one or two courses on campus each semester, but the end was nowhere in sight."
Blevins was among the first students to learn about Union's U|SUCCEED program and believed she finally had a viable option to move her education along.
"In the past, I have been intimidated by college courses in general, especially online courses," she said. "This semester, I am diving in. I am registered for four courses through U|SUCCEED and it is going great. I feel accomplished and I am really proud of the work I am doing."
Blevins is participating in the U|SUCCEED program to earn a Bachelors of Science Degree in Business Administration. Other students new to the program are engaged in the multidisciplinary program and crafting their own courses for a specialized bachelors degree. All of the courses are designed at Union College and taught online by Union professors.
"My instructors have been fabulous," Blevins said. "They are so willing to help. I even have an instructor who uploads videos on a daily basis to help us better grasp the concepts. It is very encouraging."
In addition to having direct contact with Union professors, the U|SUCCEED program offers students 24-7 technical support and an easy to use online management system. Course materials and textbooks are included in the tuition rate – affordable at $300 per credit hour with financial aid is available to all students. Courses start every eight weeks, giving students many options for entry into the program.
"These courses run in eight week intervals allowing me to start classes or take a break when I need to," Blevins said. "With the program, I feel I can get more courses in quicker than the traditional route."
Blevins hopes to complete the course in the 18-month time frame to earn her degree. She said, however, U|SUCCEED may allow her to continue with coursework to take her education and career even further.
"I feel like I am succeeding already in just having the opportunity to further my education," she said. "From there, the sky's the limit. I look forward to walking across the stage as a Union College graduate."
To learn more about Union's new online degree completion program – U|SUCCEED, visit unionky.edu/usucceed.