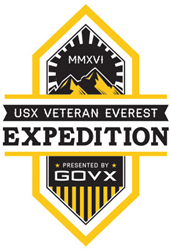 Summiting Mount Everest will be amazing, but honestly, raising funds and awareness that directly helps my fellow soldiers means everything to me.
San Diego, CA (PRWEB) September 29, 2015
GovX.com has announced a partnership with USX, an active-duty and veteran-founded nonprofit organization, which aims to put the first active duty United States Army soldier and combat amputee on top of the world. USX's mission is to empower veterans to overcome service-related mental health issues through unforgettable adventures. The group aims to send teams of vets and active duty individuals on global expeditions to offer a renewed sense of camaraderie, purpose, and the motivation to confront PTSD and other service-related stresses.
Their inaugural mission is their most ambitious: Mt. Everest. In the spring of 2016, a five-member team comprised of veteran and active-duty United States Army soldiers will tackle the mountain. Among the team is a new West Point graduate 2nd Lieutenant, a 1st Lieutenant artillery officer, a retired Command Sergeant Major, an active-duty Captain, and a combat-wounded veteran Staff Sergeant.
"Summiting Mount Everest will be amazing, but honestly, raising funds and awareness that directly helps my fellow soldiers means everything to me," 2LT Harold Earls said, one of the founders of USX and a member of the expedition. "There's a far greater satisfaction than summiting the mountain itself because I know we'll have done something to help our brothers and sisters in arms."
The mission will be documented by a crew from GoldCrest Films led by Sebastian Junger, the award-winning director of the combat documentaries 'Restrepo' and 'Korrengal', as well as the New York Times bestselling author of 'The Perfect Storm.' The film aims to capture the motivations of the climbers' goal to raise awareness for military mental health. Over half of all the net proceeds of the film will go directly to helping veterans and soldiers who struggle with PTSD and contemplation of suicide.
"The climb is sort of outside the normal narrative about veterans." Junger said. "The civilian community does a lot of walking on eggshells about veterans and how delicate they are, and a few are delicate, but most have been enormously strengthened by their experience in war, and this climb is a great response to that sort of fallacy."
GovX is the premier sponsor of USX's first crowdraising campaign to procure the $107,500 needed to fund the Everest climb. 100% of all donations will go directly to the climb and the PTSD/mental health awareness campaign. Any excess expenses will be donated to two other veteran nonprofits: Give an Hour, and Stop Soldier Suicide. More information about the climb and personal profiles of each of the five climbers are available on the GovX Insider blog.
"This is literally the biggest endeavor that GovX has ever supported," GovX founder Marc Van Buskirk said. "Having the backs of these five soldiers, and the backs of every veteran they support, is its own privilege. Let's get them to the top of the world and help them inspire others to conquer their own personal challenges."
USX is fundraising through Classy.org. Interested donors can visit their main fundraiser page to learn more about the mission and meet the climbers in their promotional video.
About GovX
GovX.com is for men and women of service. A members-only online destination for military and first responders, the site was founded in 2011, and offers thousands of products from hundreds of brands at private, below-retail pricing. Members include current and former military, firefighters, law enforcement officers, federal agents, and personnel from related government agencies. For more information, visit http://www.govx.com.
About USX
USX is a nonprofit organization founded by active-duty service members and veterans. We empower and inspire veterans to overcome service-related mental health issues. We do this through small outdoor expedition teams fostering camaraderie and a renewed sense of purpose. In doing so, we spread the spirit of the American soldier and raise awareness for veterans' mental health nationwide.