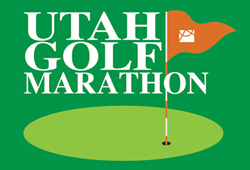 The Utah Golf Marathon is our way of sponsoring a fun community event to support a worthwhile cause.
Lindon, Utah (PRWEB) May 14, 2014
Alexander's, a Utah-based cross-media print and marketing firm, is proud to present the seventh annual Utah Golf Marathon at The Links At Sleepy Ridge golf course in Orem, Utah on June 17, 2014. The annual fundraiser event will support Brigham Young University's student athlete scholarship fund.
The Utah Golf Marathon is an all-day tournament, from sunup to sundown, where golfers test their endurance through 54 holes of golf while supporting a worthy cause or local organization.
The event begins with check-in at 6:30 a.m., a shotgun start at 7 a.m. and concludes with dinner, awards and a silent auction around 8 p.m.
"The Utah Golf Marathon is our way of sponsoring a fun community event to support a worthwhile cause, which is BYU Athletics this year," said Jeff Alexander, CEO of Alexander's. "The BYU athletes face many challenges, among them the cost of paying for school while devoting so much time to their sport. We're happy to help support BYU athletes through the Utah Golf Marathon fundraiser."
Typically 15-20 foursomes participate in the annual Utah Golf Marathon and compete for awards including closest to the pin, longest drive, best individual all-around and hole-in-one.
"We're honored to be a part of this great event and very grateful to Alexander's and the golf community for supporting BYU's more than 600 student-athletes," said Robbie Bosco, who directs athletic development for BYU Athletics. "We can't wait for this great event and look forward to meeting each of the participants."
Event Details:
June 17, 2014
6:30 a.m. to approximately 8:30 p.m.
The Links at Sleepy Ridge golf course — 730 South Sleepy Ridge Drive, Orem, Utah 84058
$1,250 per foursome
Sponsorships are available for $1,000 per hole, or $1,750 with the purchase of a foursome.
Mulligans may be purchased in advance or at the event for $10 each.
Utah Golf Marathon registration and additional information is available at UtahGolfMarathon.com.