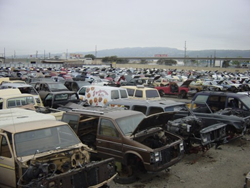 Some yards do not sell parts to consumers because of shipping costs, and this can lessen the research opportunities that a person has when shopping for older car parts
Salt Lake City, UT (PRWEB) March 27, 2015
Demand for vehicle parts in the Pacific Northwest has helped the Locate Car Parts company to add new providers shipping to this part of the country this year. Utah junk yards can now be searched statewide by consumers who have a direct need to find in stock parts and pricing for used motor vehicles at http://locatecarparts.com/utah-junk-yards-search.
Since consumers can experience problems with inventory and shipments through some dealers, the research system that is now installed could be a good asset during auto parts research. Salt Lake City, Sandy, Provo, Logan, Ogden and West Jordan are some of the largest areas in Utah that are now covered by auto parts dealers in the Locate Car Parts database.
"Some yards do not sell parts to consumers because of shipping costs, and this can lessen the research opportunities that a person has when shopping for older car parts," said one LocateCarParts.com source.
While junk dealers are now present inside the research system, alternative companies that deal in second hand companies are also searchable. Auto scrap yards that specialize in certain types of components can be located and reviewed while using the database to produce more ways to buy European or American manufactured components.
"Utah is now one of the newest states filled with junk and auto salvage dealers that are able to supply components at affordable prices to consumers using our website," the source included.
The LocateCarParts.com website is now helping to introduce parts and providers in 15 states in 2015. Because new companies are being added to the database weekly, consumers will have the opportunity to explore new yards and distributors through the remainder of this year.
About LocateCarParts.com
The LocateCarParts.com company supplies a growing network of salvage and junk dealers through its network that are now searchable when using the company website online. The company helps consumers find better inventory from second hand sources nationally. The LocateCarParts.com company has a web search tool that is now updated every day with new providers of used condition motor vehicle parts for all automaker brands.