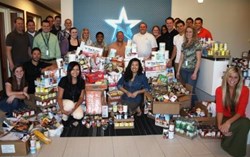 Participating in the food drive really brought everyone together.
Orem, UT (PRWEB) August 10, 2013
NorthStar Alarm Services hosted a company food drive this past week, themed "Hunger is not a Game," in support of the Utah Food Bank Summer Business Drive, an annual program that encourages businesses to give back to their communities through food donations. NorthStar employees set out to support the program and help ease the pressure placed on local food pantries during the summer months due to dwindling food donations. After one week of physical can collection and online food donations, the company reported a total of 3,867 food item donations, more than quadrupling their anticipated goal.
"Participating in the food drive really brought everyone together," said Jason Christensen, CEO of NorthStar Alarm Services, about the donation response. "It was great watching our employees rise to the call and unite to make a positive difference."
In addition to physical and online can donations, NorthStar employees participated in office sponsored competitions that played off the popular movie "Hunger Games," to earn additional can donations for their team. Some of the competitions included ping pong, "Name that Tune," can-stacking, and pie eating. After adding in can donations earned through competitions, employees donated a grand total of 3,867 food donations. Just over 45 corporate office employees participated in the food drive, giving an average of over 85 food items donated per person for the week.
"On the final day of competition, we literally had people bringing in carts full of food," said Justin Livingstone, Quality Assurance Manager at NorthStar A. "In the end the real winners are the individuals and families that the Utah Food Bank will be able to help. I'm looking forward to seeing how much more we can donate next year."
The donations made by NorthStar employees were donated to the Provo Community Action Services and Food Bank organization in Provo, Utah.
The Utah Food Bank Summer Company Food Drive continues through August and all companies are invited to participate. To host a company food drive or find a local pantry to donate, go to UtahFoodBank.org.
About NorthStar Alarm Services
NorthStar Alarm Services, LLC, an authorized dealer of Honeywell Security Products, provides elite home security systems that are the most advanced and user-friendly on the market. Having the equipment, relationships, and reputation that families have been able to count on since NorthStar was founded in 2000, NorthStar continues to grow and protect residents in more than 20 states across the U.S. With a 24-7 support staff, Rapid Response monitoring, well-trained technicians, and professional consultants— NorthStar Alarm exists to provide security and peace of mind through quality products and superior service.
About Utah Food Bank
Utah Food Bank provides food to a statewide network of 134 emergency food pantries and agencies statewide. Last fiscal year, Utah Food Bank distributed 33.3 million pounds of food, the equivalent of over 26 million meals for families and individuals in need.
About Provo Community Action Services and Food Bank
Community Action Services and Food Bank is a non-profit organization in Provo, Utah that provides emergency assistance and long-term support to help families in poverty become self-reliant. Since 1967, the agency's purpose is to assist the disadvantaged in meeting critical basic needs (food, housing, etc.) while working with families on a long-term basis to help them to increase their potential for financial and social self-sufficiency.
###