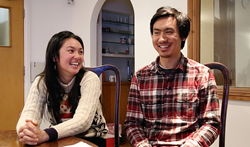 Just be yourself, enjoy it and be respectable. That's enough.
London (PRWEB UK) 12 April 2016
The Cambridges will be making their first official visit to the Land of the Thunder Dragon, where they'll meet King Jigme and Queen Jetsun (often known as the 'William and Kate of the Himalayas') and their baby son, who was born in February.
Samanta Tamang and Karma Yeshey collaborated with London-based company EuroTalk on the uTalk app for iOS, which now includes the Bhutanese language Dzongkha along with 131 other world languages. Ahead of the royal visit to their country, the consultants shared their advice for Kate and William:
"Our country is quite accepting and quite free; you can do almost anything you want, being a Buddhist country. But we do have a lot of respect for our monasteries and sacred places, so don't touch anything! Just be yourself, enjoy it and be respectable. That's enough."
But Samanta and Karma also had a couple of words of warning for visitors to Bhutan, which only opened to tourists in 1974:
"The food in Bhutan is mostly organic, but it's spicy with a lot of chillies! And the local wine might be very strong for them. We call it ara, it's almost like vodka…"
The royal itinerary includes a trip to the Buddhist monastery Thimpu Dzong and a six-hour hike to the sacred Paro Taktsang, or Tiger's Nest. Samanta explained, "There are lots of really old sacred monasteries and architecture - we don't even know how they made it! If you can get to see it once in your lifetime, it's amazing."
EuroTalk's chairman Richard Howeson added, "We'd like to wish William and Kate 'Tashi Delek' (good luck) on their upcoming visit to Bhutan. And we recommend they learn how to say 'Naa May Sa May Kha Ma Tsha Mi Chi La' (not too spicy, please)… just in case!"
Background
For more details, contact Liz Dyer, EuroTalk Marketing Manager on 0207 371 7711 or liz(at)eurotalk(dot)com.
uTalk for iPhone and iPad gives users the confidence to try out 132 languages instantly, learning from any language they choose. It's free to download, with paid upgrades to learn more with Essentials (£9.99) or Premium (£14.99). Review copies are available on request.
EuroTalk is a friendly, fun British-based language learning company with the biggest range of languages to choose from across apps and in-store products.
The company wants to enable people all over the world, of any age, to start learning to talk in a new language simply and with immediate results.