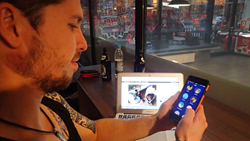 uTalk is the A-bomb of learning the local lingo whilst on the road.
London (PRWEB UK) 19 November 2015
Will Hatton, the man behind The Broke Backpacker travel blog, is travelling across 30 countries from the UK to Papua New Guinea, without taking a single flight. He says:
"Learning a new language is hands down the best way to make new friends and peek behind the curtain. uTalk helps me to break down barriers, learn the local lingo and make friends in the most unexpected of places."
The free app offers travellers like Will a fun and instant way to learn the language they need, starting with the basics like hello, please and thank you in over 120 world languages. Upgrades unlock further topics including food and drink, travelling, emergencies, accommodation and social phrases, and a search feature enables users to quickly find the word they need, when they need it.
Will left the UK on 2nd November, and is currently making his way through Europe. His planned route will take him through 30 countries, including Turkey, Pakistan, Myanmar, Tibet, and Indonesia on the way to his ultimate goal, Papua New Guinea.
As an experienced traveller, Will knows the importance of being able to communicate in the local language. He's recommending the app to fellow nomads and travellers:
"uTalk is the A-bomb of learning the local lingo whilst on the road. It's intuitive to use and packed to bursting with useful phrases, this is the future."
Dick Howeson, chairman and co-founder of EuroTalk, is delighted that Will has found room in his backpack for the uTalk app.
"We want people to enjoy learning languages for exactly the reasons Will gives – to make friends and open up new things in the world. I wish him lots of luck and fun on his travels and will enjoy following his blog."
Background
For more details, contact Liz Dyer, Marketing Manager at EuroTalk.
EuroTalk is a friendly, fun British-based language learning company with the biggest range of languages to choose from - 150+ of them - across apps and in-store products.
The company wants to enable people all over the world, of any age, to start learning to talk in a new language simply and with immediate results. (For more details visit eurotalk.com)
uTalk is an app for iPad and iPhone, providing users with instant access to 15 essential words in 128 languages, free of charge, with further content available through paid upgrades. It is available to download from the App Store.