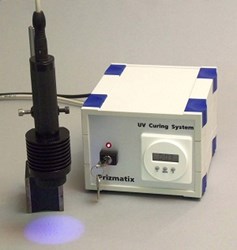 The low cost of ownership and short lead time makes the Cure-LED and the similar NDT-LED very attractive products.
Southfield, MI (PRWEB) September 10, 2013
Prizmatix, a leader in Ultra High Power LED system for scientific and industrial applications, introduces the Cure-LED Flashlight for convenient hand held curing of small areas of one to two inches.
The Cure-LED curing system is a simple user-friendly device for flood curing UV adhesives, coatings, and inks. The device features advanced UV LED technology providing a total of >330mW of useful UV power at 365nm and >370W of UV power at 385nm.
The LED controller is designed for convenience and ease of use. The countdown timer on the controller front panel remembers its previous setting and curing is initialized with a convenient hands-free foot switch.
A lower cost version for non-destructive dye penetrant testing, the NDT-LED for, is also available with a simpler controller, as well as a battery operated model for field use.
"We designed the Cure-LED by customer request and since then this has been a popular product," says Nathaniel Sperka of Prizmatix. "The low cost of ownership and short lead time makes the Cure-LED and the similar NDT-LED very attractive products."
Some of the key features of the Cure-LED system include:

Choice of 365nm or 385nm LEDs.
Advanced UV LED technology to provide high irradiance.
Capacity for up to 4 UV LED heads powered simultaneously (optional).
Long life of over 10,000 hours (no lamp replacement required).
Click-in lens adaptor, enabling easy and quick lens changes for various beam diameters.
The Cure-LED and NDT-LED can be purchased online at http://www.GoldstoneScientific.com or through the regional Prizmatix Sales offices.
Other Prizmatix products are available for demanding industrial applications with up to 3.5 watts of intense UV light.
About Prizmatix Ltd.
Prizmatix Ltd. (http://www.prizmatix.com) specializes in Ultra High-Power LED illumination systems for scientific, industrial and OEM applications. Prizmatix modular designs incorporate the latest technology in packages that offer maximum power and versatility in light delivery with a full range of products, including fiber-coupled LEDs and specialized LEDs for optogenetics and microscopy.
Prizmatix experts work to understand each customer's needs and then offer cost effective off-the-shelf or customized solutions based on standard modular products. Prizmatix works with customers on product design, prototype development, and small-scale manufacturing as well as FDA and CE compliance. Our multidisciplinary team has expertise in optics, electronics, optomechanics, optical fibers, software, biocompatible materials, and medical devices.