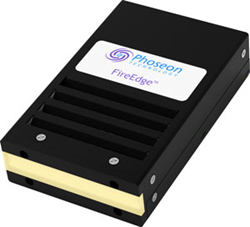 Hillsboro, Oregon (PRWEB) August 28, 2014
Phoseon will exhibit a full range of UV LED curing products available for the print industry at the upcoming IMI Ink Jet Technology Showcase. The conference takes place September 3-5, 2014 at the Hilton Charlotte University Place in Charlotte, North Carolina. UV LED curing is ideal for digital, screen and flexographic printing processes and continues to win over many users in the printing world because of all the benefits. UV LED curing offers increased production speed, lower cost of ownership and less waste, while also providing an enhanced visual appearance and packaging.
IMI's Ink Jet Technology Showcase 2014 is IMI's unique program concept designed to enable current and potential ink jet printing system developers, integrators and users to obtain detailed technical information and establish professional working relationships with base ink jet printing technology providers (printheads, inks, media, curing systems, chemicals & materials, system integrators, instrumentation, etc.).
While bringing the three-tiered benefits of UV LED curing (advanced capabilities, operating economics, and environmental advantages), Phoseon's products add additional capability with superior performance, integrated control, and outstanding reliability for customer's tough curing environments.
About Phoseon Technology
Phoseon Technology is the world leader in providing UV LED solutions for commercial and industrial applications. Phoseon's products deliver maximum UV energy, high performance, and real-world reliability for UV LED curing of adhesives, coatings and inks. The Company provides worldwide sales and support capabilities and can be reached at http://www.phoseon.com.