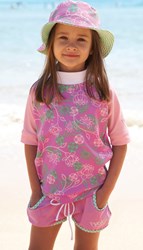 It sounds simple, but simply covering up with UV protective clothing will do a world of good for sun protection.
Sydney, NSW (PRWEB) September 09, 2013
The Melanoma Institute Australia's annual campaign to reduce the incidences of melanoma has just been launched. Their month-long drive kicked off with National Shade Day on Friday, 6 September 2013. Long-time sun safety supporters, Platypus Australia, joined in on the national effort by releasing their 'The Importance of UV Protection Swimwear' graphic to help spread awareness. Founder of the UV safe swimsuit company for children, Ms. Karel Wheen, explains her efforts this month. "Although we support causes like this year around, for September we're using National Shade Day as a trigger to boost customer awareness; it's easier to understand a visual than read a lot of text, so we've unveiled a great graphic explaining the facts behind, and causes of, cancer."
Australia is known to have the most occurrences of melanoma on the planet. It's more common amongst teenagers and young adults; so the country is searching for a way to reduce the staggering number of new cases diagnosed each year through awareness programs.
Since their beginnings back in 1996, Platypus Australia have been doing their bit to help shield infants, children and young adults from melanoma by creating trendy and comfortable UV safe swimsuits and accessories. Being the integral 'Slip' piece of the infamous 'Seek, Slip, Slop, Slap, Slide' prevention method taught in schools, covering up with Platypus's UPF50+ rating swimwear blocks out 97.5% of harmful ultraviolet radiation.
Ms. Wheen explains the 'Seek, Slip, Slop, Slap, Slide' system further, which first starts off by having people "seek out shade whenever possible, in particular during the peak afternoon hours between 11am and 3pm." The second step of 'Slip' is where Platypus Australia becomes of particular interest for those looking to protect their families from the ill effects of the sun. "It sounds simple, but simply covering up with UV protective clothing will do a world of good for sun protection."
The company director goes on to explain that this second step is often difficult for children, because being covered up is usually uncomfortable. "That's why our beachwear has been specifically designed with maximum comfort in mind, so young ones don't even realize they're wearing the highest level of UPF50+ protection available, which ensures they stay covered up while outdoors." Ms. Wheen then clarifies that a UPF rating is specifically for clothing, while an SPF one is for sunscreens only.
The last three components, 'Slop, Slap, and Slide' focus on diligently applying sunscreen, wearing wide-brim hats and using sunglasses that meet the Australian AS1067 standard. Ms. Wheen says that the public can really help diminish the growing number of melanoma cases by "just employing these five really simple steps."
She thoughtfully continues by asking, "So if it's so easy to protect ourselves, why are diagnoses increasing each year? It's because cancer prevention isn't common place yet. So awareness efforts this month are vital for everyone." As a result, Ms. Wheen's company has created an informative graphic outlining how the sun's rays are dangerous, what skin cancer actually is, as well as how to protect against it. She encourages families to review it and "really take the information in, then share it as much as possible. Remember, this month is all about awareness so we can turn the tables on melanoma."
On Friday, 6 September, The Melanoma Institute Australia commenced their month-long campaign against skin cancer with National Shade Day. The UV safe swimsuit manufacturer for children Platypus Australia is supporting the cause by raising awareness amongst their customers with a newly created graphic on their website. Ms. Wheen's company globally supplies trendy UPF50+ swim and beachwear, all meeting the ARPANSA (Australian Radiation Protection and Nuclear Safety Agency) and British Standard for Ultraviolet Radiation's strict rating criteria. Ensuring children of all ages are catered for, Platypus's collection includes items for infants, toddlers, pre-teens and teenagers. Their fashionable, high quality and sun-safe pieces including: swimsuits, board shorts, skirts, sun and rash shirts, caps bucket hats and more, can be viewed here.
About Platypus Australia
Since their beginnings in 1996, Platypus Australia's quality children's UV protective swimwear has spread to the UK, Europe, Asia and USA. They're export-ready garments are internationally acclaimed and in high demand since the effects of harsh ultraviolet radiation are now well known.
Platypus Australia's beachwear gives parents peace of mind knowing their children are safe, while having fun in the sun. For more information regarding their renowned product range, visit http://www.platypusaustralia.com.