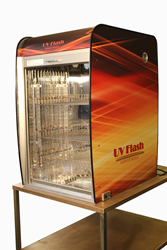 UV Flash disinfecting system has shown a 100% kill rate on C. difficile, staphylococcus aureus, and acinetobacter baumanni in 60 seconds.
Jackson, MI (PRWEB) May 29, 2014
Just one infection acquired while a patient is being treated in a healthcare facility (HAI) can cost that facility nearly $40,000.00. In addition, neither Medicare/Medicaid nor most major insurance companies will reimburse hospitals for those expenses any longer. It is only a matter of time before C-Suite level officers realize that this former source of revenue, via automatic reimbursements, has now become a sink hole in their revenue stream.
This loss of revenue, coupled with the ever expanding requirement to report these cases of HAIs, is a clear indication that it would behoove healthcare officials to look beyond the tired old hand washing campaigns to come up with innovative devices that could halt the spread of infection and turn around this epidemic that is killing over 270 individuals per day in the United States alone. In fact, in the US, infections acquired during hospital stays kill more people than breast cancer, auto accidents and AIDS combined.
In April of 2013, Midbrook BioMedical released a new, patented product specifically designed to address this problem. The original UV Flash, 60 Second Germicidal Light Station quickly and effectively stopped the spread of infection by killing live bacteria using Ultraviolet C rays (UVC) in a short 60 second cycle on medical tools, along with other common items found in healthcare facilities.
While Ultraviolet C light is not a new concept, the combination of UVC light with the highly polished, mirror finish interior chamber of the UV Flash, is a state of the art method of eliminating bacteria on contaminated instruments within a 60 second timeframe.
The popularity of that initial model motivated Midbrook BioMedical's customer base to seek other areas where this technology could be employed.
Market input inspired the development of a second, smaller and more transportable model. The mini UV Flash, at approximately 15 ½"W x 25"D x 15"H, is less than half the size of the original. Much shorter and not as top heavy, it is more transportable and more likely to fit in a congested nurses' station or patient room.
The third model was recommended by a team of central sterile processing technicians. It is a pass through model which, using dual hinged doors, is designed to be placed between the clean and dirty side of the CSPD in the space now used as an open window in most facilities (which violates Joint Commissions guidelines).
All three models of the UV Flash use reflected UVC light, not harsh chemicals and they do not give off any harmful fumes. Midbrook's UV Flash is an effective and efficient disinfection unit for medical instruments, patient care items, and also to disinfect commonly used items such as cell phones, iPads, stethoscopes, writing instruments, and anything else that is carried from patient room to patient room.
There is no microorganism on earth that is resistant to UVC light, including superbugs such as S. aureus, C. difficile, and A. baumannii.
For more information on the UV Flash or Midbrook's infection control line, contact Midbrook BioMedical at (517) 787-3481 or email sales(at)midbrook(dot)com to learn more about the UV Flash and do what antibiotics no longer are capable of doing.
About Midbrook Medical:
Midbrook Medical is the world-leader in custom-designed, process-specific cleaning and decontamination equipment. Midbrook has applied technology and expertise gained from other industries to solve some of the most pressing issues facing healthcare facilities. Visit our website for details on all Midbrook Infection Prevention products.