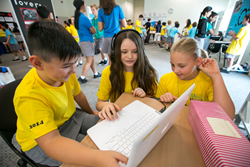 "We have invested heavily in developing teachers' skills in using technology to enhance learning for students, and in supporting parents as their children navigate the online world."
Singapore, Singapore (PRWEB) May 07, 2015
United World College South East Asia (UWCSEA) has been named an Apple Distinguished School for 2014–2016 in recognition of its innovative teaching and learning and commitment to teacher practice within a technology-rich learning environment.
The Apple Distinguished School designation is reserved for programmes that meet criteria for innovation, leadership, and educational excellence, and demonstrate Apple's vision of exemplary learning environments.
When asked what distinguished the school, Ben Morgan, Director of IT for UWCSEA, said, "The selection of UWCSEA as an Apple Distinguished School is a result of our focus on learning, rather than our focus on technology. We have invested heavily in developing teachers' skills in using technology to enhance learning for students, and in supporting parents as their children navigate the online world."
Teacher and student competence with digital tools has developed remarkably quickly at the school. For example, Primary students create screencasts on iPads to demonstrate their understanding of mathematics concepts. Using screencasting apps - combining audio, images, drawing and text to create a video - students create videos that make their thinking visual and visible. Assessing student understanding is much easier when their thinking is so clearly captured.
For older students, the focus on developing digital skills to help with their learning is combined with raising their awareness of staying safe online. All students from Grade 6 to 12 are issued with a laptop and, together with their parents, attend an 'out of the box' session. At this session students are introduced to the the College's user agreement and get started with using their Apple laptop. Once the school year is underway, families are invited to a 'growing up digital' session where they focus on developing agreements between parent and child around the use of the laptop and digital media in the home. This continues through the digital citizenship programme for students, which helps them to address some of the challenges associated with the online world.
"By giving families specific time and a protocol to focus discussion, they're better equipped to negotiate limits and establish healthy behaviors from the start. Doing so results in stronger partnerships between student, parents, and the school regarding digital learning and reduces distractions and conflict," said Morgan.
UWCSEA was also the inaugural winner of the 21st Century School of the Year Award in December 2013. The award, which is sponsored globally by Pearson, is designed to recognize schools who excel in their use of technologies to support student learning.
Opened in 1971 as Singapore International School by then Prime Minister Lee Kuan Yew, UWC South East Asia became a full member of the UWC movement in 1975. For more than 40 years, it has been offering a mission-driven, values-based international education to students from more than 80 nationalities. A K–12 school, with two campuses and nearly 5,400 students, UWCSEA is now recognised as one of the leading international schools in the world.