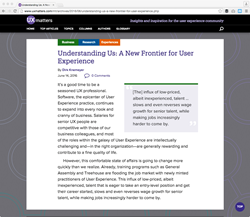 "Throughout UXmatters' history, Dirk Knemeyer and Jonathan Follett of Involution Studios have been key strategic advisors and content contributors," said UXmatters Founder, Publisher, and Editor-in-Chief Pabini Gabriel-Petit.
San Jose, California (PRWEB) June 17, 2016
UXmatters, the original Web magazine for User Experience (UX) professionals, has launched its responsive redesign. UXmatters published its inaugural issue in November 2005 and has since published 1,067 articles by 328 authors, which have been read by more than 5,245,000 people from 237 countries. Among the key contributors to UXmatters are principals at Arlington, Massachusetts-based healthcare user experience firm Involution Studios.
"Throughout UXmatters' history, Dirk Knemeyer and Jonathan Follett of Involution Studios have been key strategic advisors and content contributors," said UXmatters Founder, Publisher, and Editor-in-Chief Pabini Gabriel-Petit. "While hundreds of talented people have contributed to the success of UXmatters, Involution Studios has played a special role. We really appreciate the contributions these thought leaders have made to UXmatters."
Gabriel-Petit is a Silicon Valley veteran who has worked in the field of User Experience for about 25 years. She has held leadership roles at Intel, WebEx, and several startups, and worked as a UX Designer at Apple, Google, and Cisco. She is a prolific author and speaker on User Experience topics, and delivered the keynote address at the Frontiers of Interaction conference in Milan, Italy. Under her leadership, UXmatters publishes ten articles every month.
"UXmatters has played an integral role in educating a generation of UX professionals," said Knemeyer, a founder of Involution Studios. "Over the last decade, we have watched User Experience evolve from an integral function in the software industry into perhaps the central discipline related to digital innovation in every business industry. Many UX professionals now working in the field of User Experience have benefitted from the information UXmatters provides. It is an honor to be of service to it."
From 2004–2009, Knemeyer built Involution Studios into the first-choice user experience firm in Silicon Valley, serving companies like Apple, Oracle, and Shutterfly. In 2009, he led the company's move to the Boston area, in Massachusetts, where it evolved to specialize in healthcare, working with companies like Johnson & Johnson, AstraZeneca, and the U.S. Department of Health and Human Services.
"What is particularly exciting about this next phase for UXmatters is the way the UX community is changing," said Follett, a Principal at Involution Studios. "We are at a moment when recent science fiction is becoming the science fact of the present and the near future. This maturation of digital technology is driving advances in fields like artificial intelligence, genomics, and robotics. User Experience will be integral to defining the evolution of these fields, and UXmatters will continue to be a guiding light for User Experience."
Follett is the lead author and editor of "Designing for Emerging Technologies" from O'Reilly Media, the authoritative book on user experience for today's bleeding-edge fields of science and technology.
The inaugural edition of the new UXmatters features the following new articles:

"Algorithms as the New Material of Design," by Pamela Pavliscak, Founder of Change Sciences
"Understanding Us: A New Frontier for User Experience," by Dirk Knemeyer, Co-Founder of Involution Studios
"Expand Your Influence: 6 Communication Techniques Designers Can Use to Earn Trust," by Michael Hawley, Chief Design Officer at Mad*Pow
"A No-Compromises User Interface Rarely Gets Built," by Baruch Sachs, Senior Global Director, User Experience, at Pegasystems
"Lean UX for Wearables: An Interview with Greg Nudelman, Part 1," By Janet Six, Principal at Lone Star Interaction Design
The second edition, coming out later in June, will include:

"Traditional User Experience Is at a Crossroads, Part 2," Jim Nieters, Co-founder and Chief UX Strategist at Experience Outcomes
"Why Emerging Technologies Are the Next Great Frontier for UX," by Jonathan Follett, Principal at Involution Studios
"The Next Big Thing in UX," by Janet Six, Principal at Lone Star Interaction Design
"The Power of Inclusion: Why Having Your People Matters," by Traci Lepore, Senior User Experience Designer at Bridgeline Digital
"How Piracy Became the Best User Experience in Media," by Demetrius Madrigal, Co-founder and VP Research and Product Development at Metric Lab, and Bryan McClain, Principal, User Experience, Human Factors, & Product Innovation
To join the UXmatters redesign celebration, learn more about the publication, or connect with Ms. Gabriel-Petit, visit http://www.uxmatters.com.
About UXmatters
Founded in November 2005, UXmatters provides insights and inspiration to both experienced professionals working in every aspect of user experience and those who are just beginning their UX journey. Our authors share their insights on important UX topics, disseminate UX best practices, and influence the future direction of the profession.
About Involution Studios
Involution Studios helps healthcare technology companies design magical software for personalized medicine. Founded in Palo Alto, California, in 2004, we've designed innovative solutions for software trailblazers such as Apple, Inc., Microsoft, and Oracle Corporation. In 2009, the company relocated to Arlington, Massachusetts, where we work with healthcare technology organizations such as 3M, Johnson & Johnson, Walgreen's, and AstraZeneca. Our guidance has created new markets and product categories, and our digital designs have been used by hundreds of millions of people.