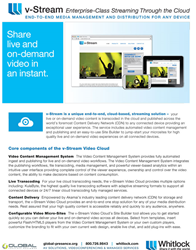 Richmond, VA (PRWEB) June 24, 2014
Whitlock has brought a new cloud-based, end-to-end streaming solution to market that offers video content management, content delivery, live transcoding and configurable video microsites accessible from any device, regardless of location.
Whitlock's v-Stream makes it easy to ingest and publish content in real time with encryption and 24x7 support. The delivery of content can happen automatically to websites, mobile devices, tablets and set-top boxes. This solution also enables organizations to leverage social media integration with Facebook. Twitter, YouTube and other outlets.
"A key feature of our streaming solution is the powerful analytics and reporting, which includes quality of service reporting and audience insights that instantly track video start-up times, buffering information, failures and top-viewed content," explains Julian Phillips, Executive Vice President at Whitlock. "Plus, we provide 24x7x365 support, which makes this a truly compelling proposition for mission critical communications."
Whitlock has partnered with Haivision to deliver v-Stream to its customers, based on the company's video cloud streaming solution.
"Whitlock has the expertise and global reach that has made them a great partner for Haivision," states Chance Mason, Haivision EVP Global Commercial Sales and Internet Media Services. "Our companies have similar customer-centric strategies and the depth of capabilities to serve large global enterprises and government entities."
"We expect v-Stream to have a strong impact on the marketplace and great benefits to both companies and our joint customers in 2014," adds Julian.
Learn more about v-Stream at: http://www.whitlock.com/sites/ddev.whitlock.com/files/Whitlock_vStream_Overview.pdf.
***
About Whitlock
Whitlock is a Global Audiovisual (AV) and Unified Communications (UC) Solutions Provider, specializing in collaborative technology design, integration and managed services. The company helps customers meet goals, drive action and improve efficiency by streamlining interactive technologies and standards. Areas of expertise include enterprise videoconferencing, unified communications, digital media, digital signage, video walls and projection technologies. Whitlock also offers follow-the-sun 24x7 service level agreements as well as onsite and remote AV/NOC support. Whitlock serves customers from 20 U.S. locations, plus a worldwide delivery partner network through the Global Presence Alliance. Learn more about us at http://www.whitlock.com, or get engaged with us on Linked In, Twitter, Facebook or YouTube.