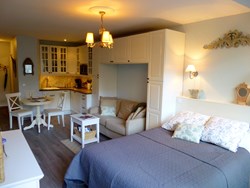 For many vacation home owners, renting out their properties for vacation rentals could be good earners when done correctly.
(PRWEB UK) 3 September 2013
For many vacation home owners, renting out their properties for vacation rentals could be good earners when done correctly. Alpha Holiday Lettings has put together a list of potential issues to watch out for, hopefully will make the letting process easier and smoother for vacation rental hosts.
1. Managing guest expectations – Be realistic and true to the facts when marketing the vacation home. Provide as much information and photos as possible about the property and the local area. If rental guests are given a false sense of high expectations, it could lead to potential problems when they arrive at the rental property.
2. Agree and sign rental contract – It is very important to sign a rental contract with the guest before the stay starts. It states in black and white responsibilities and entitlements of both the hosts and guests, and clarifies where both parties stand in case things go wrong.
3. Know the total costs – Take into account all the usual running costs, mortgage payments if applicable, utility bills, repairs & maintenance, insurance and marketing. If using a management agency, remember to include management fees and possibly rental commission.
4. Deal with enquiries efficiently – Whether the vacation home is advertised on its own website or a vacation rental listing site, the best practice is to specify the rental rates and display up-to-date availability. This will encourage potential guests to get in touch. Make sure to respond to enquiries quickly when they arrive as guests are likely to have enquired several similar properties at the same time.
5. Minimise breakage and damages – Furnishing a vacation home is very personal. Although providing luxury, good quality furniture and furnishings increases the desirability of the property, avoid including items that are irreplaceable or could be easily damaged, such as expensive pieces of glass ornaments.
6. Prevent accidents and injuries – Check the property for repairs, such as unstable shelf units and get them fixed right away. Take preventative measures to ensure the chances of accidents happening is kept to a minimum, which includes adding wall socket safety plugs, non-slip bath matt, child-safety stair gates, swimming pool barriers, ensuring balconies are fully secured, etc.
7. Maintain security of the property – Make sure all doors and windows are secured, fit an alarm system. It is also a good idea to install window grilles to prevent break-ins. Maintain a good relationship with neighbours, asking them to visit the holiday home and do regular checks is a good way to make the property look lived-in.
8. Insurance gives a peace of mind – It is now very easy to purchase buildings and contents insurance for overseas holiday homes online, covering from burglary, damages caused by rental guests, fire to natural events such as flooding.
9. Laws and regulations – Some countries have more stringent legal requirements regarding holiday lets than others. In certain countries, even different regions have their own set of laws and regulations that property owners need to follow. For owners of apartments and villas in Spain and Italy, they are likely to be required to register their holiday lettings activities with the Tourism authority. If the property is located in the United States, be sure to check with the local zoning rules which restrict how a property can be used. In France, there are strict regulations hosts need to comply with if there is a swimming pool at the property.
10. Watch out for scams – Fraudsters are always coming up with new tricks. One of the most common scams involves the guest sending the host a cheque for an amount exceeding that of the rental. The host will then be asked to return the difference in a payment. The original cheque from the guest would ultimately bounce and the host will be left out of pocket. The most important thing is to apply common sense.
For more information on holiday rentals visit Alpha Holiday Lettings (http://www.AlphaHolidayLettings.com)