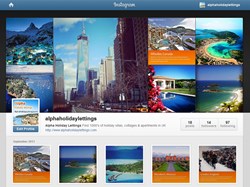 Alpha Holiday Lettings really focuses on quality customer service, and social media is just an extension of that.
(PRWEB UK) 25 September 2013
As part of their growing social media initiative, Alpha Holiday Lettings are expanding into the popular photo-sharing platform Instagram, sharing daily photos of choice destinations and properties as well as providing live customer service.
The popular vacation lettings website already has an active and engaged audience on Twitter, Facebook, Google + and Tumblr and has seen an increase of 20% in website traffic since they began implementing a comprehensive social media strategy. In line with their recent efforts, the activity on their new Instagram account will be integrated across all existing campaigns and platforms.
Tom Lei, owner of Alpha Holiday Lettings, states, "Instagram gives travel lovers the chance to share their holiday inspirations instantly with friends and family all over the world and interact with us in a more instantaneous manner. Naturally, this was the next step in our social networking strategy and we are excited to see what our fans have to share."
Recent studies have shown that visual content such as photos, videos and infographics offer higher returns on engagement and Alpha Holiday Lettings have actively embraced this trend. With over 150 million users, Instagram is one of the largest social networks in the world and its unique and intimate vintage filters have gained immense popularity with Millennial audiences.
Through the Instagram account, users are able to request general information about a holiday destination, check availability of properties and send feedback about their experience with Alpha Holiday Lettings. The website also hosts an "Online Live Chat" facility which allows holiday makers to contact customer service representatives who are on call to answer questions instantly.
Commenting on the new Instagram initiative, Lei added, "We want to convey the message that Alpha Holiday Lettings really focuses on quality customer service, and social media is just an extension of that."
FACEBOOK - https://www.facebook.com/alphaholidaylettings
TWITTER - https://twitter.com/AlphaHolidayLet
GOOGLE+ - https://plus.google.com/112231374555590036759/posts
TUMBLR - http://blog.alphaholidaylettings.com
About Alpha Holiday Lettings
Alpha Holiday Lettings a leading holiday rentals website, offering self-catering holiday apartments, cottages and villas in Spain, England, France, Portugal, Italy, Cyprus, Turkey and other destinations around the world. Properties listed on Alpha Holiday Lettings are privately owned and are booked directly with holiday home owners. For more information, visit http://www.alphaholidaylettings.com.