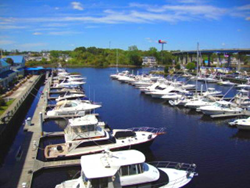 North Myrtle Beach, SC (PRWEB) June 17, 2014
Everyone needs a little time away this summer, and Vacation Rentals of North Myrtle Beach has some brand new specials for an affordable vacation. The properties below are close to some of the best attractions in the area, so guests will be able to experience the best of North Myrtle Beach without going too far. Receive up to 35% off and free linens for June bookings.
Harbourgate Marina #312
This 2BR/2BA unit is located along the Intracoastal Waterway in Harbourgate Marina & Resort, which was voted the best marina on the Grand Strand and has some of the best views in the area. The unit is pet-friendly and there's an onsite exercise room. The master bedroom has a king, and there are two double beds in the second bedroom. Enjoy a cocktail on the private balcony overlooking the marina and watch the historic Little River Swing Bridge open and close. Walk to Filet's Steak, Seafood and Sushi Restaurant and have dinner, followed by drinks at the Tiki Bar, or whip up a home-cooked meal in the fully stocked kitchen.
Yacht Club Villas #2902
The Barefoot Resort Yacht Club Villas #2902 is a beautifully decorated, spacious 2BR/2BA condo located in a luxurious high-rise building overlooking the scenic Intracoastal Waterway. Barefoot Resort has the largest pool in South Carolina and it is located right beside the Yacht Club Villas. Guests will also love the oversized balconies; they're the perfect place to watch the boats go by or the weekly fireworks show.
Vacation Rentals of North Myrtle Beach is conveniently located at 1021 2nd Avenue North, Suite 6 and can be contacted directly to discuss rental properties at 1-888-488-8588 or online at vacationrentalsofnmb.com.