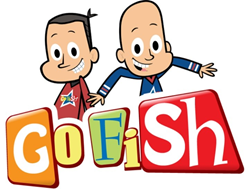 Rockin' VBS with the Go Fish Guys – July 21-25 – 6:30-8:45 p.m.
Elverson, PA (PRWEB) July 16, 2014
The Go Fish Guys' mission is to make great music for kids that won't drive parents BONKERS. The result is fun, catchy music videos that appeal across the age groups. There will be crafts and outdoor games, as well as learning about what the Bible has to say about how we can "Shine our Light" wherever we go. Kids will love it!
Check out this video to see what it's all about. http://www.youtube.com/v/vW3yrWRMceI
Vacation Bible School will be located at the Community Evangelical Free Church in Elverson, PA for children ages 4 through those who have completed 6th grade. They are welcome to join for a fun free week of songs, games, and learning from the Bible.
New this year is a Q & A for parents. Join the conversation on Tuesday and Thursday evenings from 7:30-8:30 pm. A chance to explore the questions: Who is Jesus? What did he come to do? How should we respond? Refreshments will be served.
To register please visit http://www.cefcelverson.org and click on the VBS photo or call the church office at 610-286-6790. The church is located at 52 S. Brick Lane, Elverson, PA, just off of Route 23.
Media Contact
Dawn Kimball - Children's Ministry Coordinator
610-286-6790
dawn.kimball(at)cefcelverson(dot)org