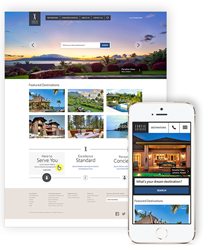 It's all about emotional impact and responsiveness
Las Vegas, Nevada (PRWEB) February 03, 2015
Exotic Estates International, Inc. (EEI) has launched a new, fully responsive website that provides users with unique property viewing features and a seamless browsing experience across devices: http://www.exoticestates.com.
The project represents the culmination of a year-long IT development project spearheaded by Tyler Coons, Founder and President of Exotic Estates. The company has developed a cutting-edge booking management system called Rental Reservations System (RRS), which serves as the CMS for the new website. All content and user interactions are driven by RRS, which also works as a lead management system.
"When I started Exotic Estates in 2006 there were very poor booking management systems available for the vacation rental business, either from a usability or functionality perspective, so we decided to create RRS. We have invested a lot time and brain power in developing the system to meet changing market needs," said Coons. "I know the products out on the market today and I can say that RRS offers true ease of use versus others. Many core functions are automated, from billing and pre-travel client alerts to post-trip review requests. Moreover, for owners, calendar and rate management is fast and easy. RRS also serves as the CMS for our website and feeds third party listing services, so content is entered once and distributed as needed."
The new website design leverages images of vacation homes and destinations to create a highly impactful, emotional experience, while organizing all of the detailed content required by clients to make informed decisions about properties in a way that is easy to digest.
"It's all about emotional impact and responsiveness," said John Di Rienzo, EEI's Director of Marketing. "When it comes down to it, we are in the fantasy business. So the idea was to marry dramatic visual content and property details to create a compelling user experience. It needed to be clean, highly functional and work well across devices. We are already seeing longer user sessions on mobile and better lead generation. The new website is as beautiful as it is functional and will benefit renters looking for vacation homes and the owners who we represent."
The company partnered with Los Angeles design firm The Glue to realize its vision for the new website. "We worked closely with Exotic Estates to design the most beautiful and intuitive way for customers to find their perfect one-of-a-kind vacation home. The new interface allows users to seamlessly search, browse and learn about the breadth of properties Exotic Estates has to offer from any device," said Paula Campos, Chief Perfectionist at The Glue.
In addition to using hero imagery to drive the browsing experience, the website includes a 360-degree viewing tool that lets users experience homes virtually. The user can hop between 360-degree views seamlessly and really get a feel for what it's like to be in the home (Sample Property View).
Users can also choose to view properties by map or listing view and sort results according to key features such Pool, Ocean Front and Ski-in/Ski-Out, as well as maximum guests and price per night.
About Exotic Estates
Exotic Estates International is a global luxury vacation rental and real estate agency that provides a full suite of products and services designed to support both travelers and homeowners alike. Founded in 2006, the company represents a carefully curated collection of 300 exquisite luxury homes in Hawaii, Utah, the Caribbean as well as other in-demand vacation destinations.