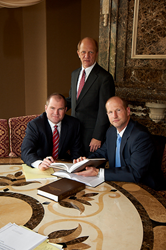 St. Louis, MO (PRWEB) May 21, 2014
Attorneys handling national transvaginal mesh lawsuit cases with The Onder Law Firm announce that proceedings for pelvic mesh lawsuits against American Medical Systems, Inc. are progressing (Re American Medical Systems, Inc. - MDL No. 2325). According to court documents, a reported 17,563 cases have been combined into a Multi District Litigation (MDL), Pelvic Repair System Products Liability Litigation, in the Southern District of West Virginia's branch of the United States District Court. Late last week, the Court, presided over by the Honorable Joseph R. Goodwin, approved an Order regarding the third set of bellweather pelvic mesh trials. The Order states that all discovery must be complete in two months, by July 14. Discovery includes depositions by company witnesses and others. This Order marks significant progress in the mesh lawsuits against American Medical Systems. The commencement date for the trial has not yet been announced.
As the American Medical Systems pelvic mesh lawsuits have moved forward, federal regulators have issued further warnings regarding the hazards of transvaginal mesh implantation for pelvic organ prolapse repair. On April 29, 2014, the U.S. Food and Drug Administration (FDA) proposed a change to the classification of surgical mesh when used for pelvic organ prolapse treatment*. Federal regulators are asking that the medical device be categorized as a Class III, High Risk device. Vaginal mesh is currently listed as a Class II, Moderate Risk device. Class III, High Risk medical devices must receive premarket approval in order to ensure safety prior to market release.
The press release issued by the federal agency outlines the reasoning for increasing accountability for pelvic mesh manufacturers:
"'The FDA has identified clear risks associated with surgical mesh for the transvaginal repair of pelvic organ prolapse and is now proposing to address those risks for more safe and effective products,' said William Maisel, M.D., M.P.H., deputy director of science and chief scientist at the FDA's Center for Devices and Radiological Health. 'If these proposals are finalized, we will require manufacturers to provide premarket clinical data to demonstrate a reasonable assurance of safety and effectiveness for surgical mesh used to treat transvaginal POP repair.'"
Women who have had surgical mesh implanted transvaginally to repair pelvic organ prolapse and who have suffered from side effects federal regulators say are linked to the medical device such as pain, urinary difficulty, organ damage, bleeding, or other related health problems may still file a vaginal mesh lawsuit. MDL pelvic mesh lawsuits against numerous manufacturers are in progress in U.S. District Courts throughout the country.
Attorneys handling national pelvic mesh lawsuits at The Onder Law Firm provide no-cost, no-obligation case reviews for women who suffer from alleged pelvic mesh health problems. Initial case consultations for vaginal mesh lawsuits are confidential and available to any woman who has had transvaginal mesh surgically implanted to treat pelvic organ prolapse.
The Onder Law Firm, a prominent national law firm with a long history of representing clients harmed by dangerous drugs and defective medical devices, welcomes vaginal mesh lawsuit inquiries from law firms in regards to handling them or working as co-counsel.
About The Onder Law Firm
Onder, Shelton, O'Leary & Peterson, LLC is a St. Louis based personal injury law firm handling serious injury and death claims across the country. Its mission is the pursuit of justice, no matter how complex the case or strenuous the effort. Onder, Shelton, O'Leary & Peterson have represented clients throughout the United States, and other firms throughout the nation often seek its experience and expertise on complex litigation. It is a recognized leader in products liability cases such as window blind cord strangulation and pharmaceutical litigation. The Onder Law Firm offers information pertaining to vaginal mesh lawsuits at http://www.pelvicmeshlawyers.com.

fda.gov/newsevents/newsroom/pressannouncements/ucm395192.htm