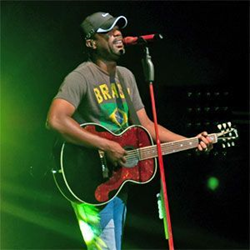 Vail, Colorado (PRWEB) June 06, 2014
Grammy Award-winning artist Darius Rucker will return for his fourth annual summer fundraising concert benefitting the Steadman Philippon Research Institute (SPRI). "Rock the Research" is scheduled for Monday, July 14 at the Gerald R. Ford Amphitheater in Vail, Colorado. Tickets may be purchased at RockTheResearch.com.
All proceeds from "Rock the Research" and the corresponding live auction will fund new research related to sports injury prevention and innovative treatments for orthopaedic injuries and musculoskeletal conditions. This includes the prevention and treatment of osteoarthritis, as well as new initiatives to prevent sports injuries in youth.
This will mark Rucker's fourth appearance at "Rock the Research" and first since 2012.
Following his success as Hootie and the Blowfish frontman, Rucker moved on to a solo recording and performing career focusing primarily on country music. In 2009, he became the first African-American to win the New Artist Award from the Country Music Association and only the second African-American to win any award from the association.
His rendition of "Wagon Wheel" won the Grammy Award for Best Country Solo Performance at the 56th Annual Grammy Awards in January.
"Darius is a fantastic performer who always puts on a great show," said Richard Steadman, M.D. Founder of The Steadman Clinic and Co-Chairman of SPRI, "but what makes his concerts here so special is that he is also a former patient of ours who embraces our mission of helping keep people active. We are grateful for Darius' support and know this year's concert and dinner will be another unforgettable event."
Tickets for the concert, as well as VIP dinner and live auction, are on sale now. To purchase tickets, please contact Lynda Sampson: info(at)rocktheresearch(dot)com or 970.479.1563.
To stay current on event information, visit RockTheResearch.com or follow the Steadman Philippon Research Institute on Facebook at Facebook.com/SteadmanPhilippon.
Ticket information follows:
Concert Only: Lawn - $25, Reserved (Pavilion) - $75
VIP: $275 per person
All-inclusive tickets include pre-concert appetizers and drinks, pavilion concert seats, dinner (catered by Larkspur Restaurant), live auction and dancing in the tent following the concert.
Sponsorships are available.
ABOUT
The Steadman Philippon Research Institute is a nonprofit charitable organization that is dedicated to keeping people active through sports medicine research. Founded over 25 years ago by Dr. Richard Steadman, SPRI and The Steadman Clinic work together toward advancing sports medicine research, education and world-class medical treatment for all sports-related injuries. For more information on the Steadman Philippon Research Institute, please visit sprivail.org.