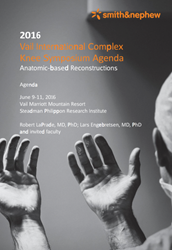 Dr. LaPrade said, "VICKS is becoming known as THE course to attend for those knee surgeons who wish to learn more about the treatment of complex knee injuries."
Vail, Colorado (PRWEB) June 01, 2016
Robert LaPrade MD, PhD and Lars Engebretsen MD, PhD are teaming up with Smith & Nephew to host the 3rd Annual Vail International Knee Symposium (VICKS) in Vail, Colorado June 9 – 11, 2016. Throughout the course, attendees will gain hands-on experience with cadaveric training and hear case discussions from leading international experts on the latest techniques and technologies in knee arthroscopy.
Over the three-day course, there will be seven different sessions that focus on anatomic-based knee reconstructions, most of which were developed by Drs. LaPrade and Engebretsen. The sessions will feature lectures and live surgical demonstrations from orthopedic surgeons. The sessions will include:

What is Anatomic and Why is it Important?
Biomechanically Relevant and Critical Clinical and Radiographic Exams
The Collaterals; Posterolateral Knee and Posteromedial Knee
Complex Meniscal Issues and Osteotomies
Posterior Cruciate Ligament and Multiple Ligament Injury
Complex Patellofemoral Issues
Revision ACL and Other Complex Knee Issues
The sessions will be held at the Vail Marriott Mountain Resort and the Steadman Philippon Research Institute (SPRI).
For the last 22 years, Dr. LaPrade of The Steadman Clinic in Vail and Dr. Engebretsen of the Oslo Hospital in Oslo, Norway have collaborated on over 50 studies focused on conditions and treatments of the knee. Many current anatomic-based knee reconstructions and knee arthroscopy techniques used by orthopedic surgeons around the world were designed and validated based upon Dr. LaPrade and Dr. Engebretsen's research.
According to Dr. Engebretsen, "The VICKS course - based on anatomy and evidence from biomechanical and clinical studies - is the world's most comprehensive training for complex knee injuries. Attendees will gain hands-on experience and learn how to manage difficult and complex cases from the most experienced surgeons in the world."
Dr. LaPrade corroborates this and notes, "VICKS is becoming known as THE course to attend for those knee surgeons who wish to learn more about the treatment of complex knee injuries. We have assembled a 'dream team' of international sports surgeons who represent the best of the best in our field. Dr. Engebretsen and I have worked together for over two decades and have been recognized for our bench-to-bedside research that has resulted in the invention of many anatomic-based knee reconstruction procedures now widely accepted around the world. We are grateful to Smith and Nephew for sponsoring this course and allowing us to educate surgeons representing six continents on how to improve the care of patients."
For more information about VICKS 2016, please visit: Smith & Nephew Courses. For those interested in the course and unable to attend, stay up-to-date though Twitter. Please follow Dr. LaPrade on Twitter @thekneedoc and follow the event hashtag #VICKS2016.
About Dr. LaPrade
Robert LaPrade, MD, PhD is an orthopedic surgeon at The Steadman Clinic in Vail, Colorado. As the Chief Medical Officer and Co-Director of the Sports Medicine Fellowship Program at the Steadman Philippon Research Institute and treats many collegiate, professional and Olympic athletes. Dr. LaPrade has published over 255 peer-reviewed studies and has received multiple national and international research awards. Recently, Dr. LaPrade and his team published the first free iBook, "Complex Knee Surgery Made Easy" to help teach physicians around the world how to perform knee surgery.