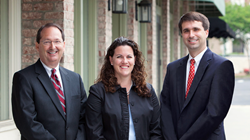 These activities are very fun, but can also be dangerous, and require some planning to do safely.
Valdosta, Georgia (PRWEB) October 16, 2014
Attorney Danny Studstill recently appeared as a guest on the popular television show LawCall. The show runs weekly on WMAZ, one of the oldest and most watched stations in Central Georgia. Studstill has appeared as a guest on the program before, which is hosted by Annette St. Claire and attorneys from the Macon law firm of Reynolds, Horne & Survant.
In his most recent guest appearance, Studstill provided helpful information about how to reduce the chances of being involved in a serious summertime accident, and also what steps to take if tragedy strikes. Topics included new Georgia boating laws, and statistics regarding accidents involving jet skis. The show also covered swimming pool safety, as well as legal issues involving assumption of the risk when attending a professional baseball game.
"Typically, serious accidents are the result of three or four things going wrong," said Studstill. "We encourage everyone to take a little extra time to consider safety precautions, whether they are boating, swimming, or enjoying our nation's favorite pastime. These activities are very fun, but can also be dangerous, and require some planning to do safely."
To see clips from Danny Studstill's guest appearance on LawCall, please visit the firm's YouTube page here.
About Studstill Firm, LLP: With offices in Valdosta, Macon, and Nashville, Georgia, the Studstill Firm, LLP is uniquely positioned to provide convenient legal services throughout the state. The firm's attorneys are widely recognized as skilled injury attorneys, representing individuals and families in car, truck, and motorcycle accident cases, as well as wrongful death and workers' compensation claims. The firm is AV Rated by Martindale-Hubbell and has been providing high-quality legal services in Georgia since 1980.