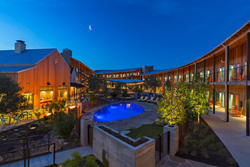 "We have a heavy heart for those who are trying to get back on their feet, and we hope our guests can help by letting us lighten their suitcase load by donating professional attire." says Amy Trench, Corporate Director of Marketing & Public Relations
San Antonio, Texas (PRWEB) May 26, 2016
Each summer, Houston-based Valencia Group embarks on a community initiative that seeks to connect guests and its national portfolio of hotels with deserving beneficiaries. Beginning on June 1, Hotel Valencia Riverwalk in San Antonio, TX, Hotel Valencia Santana Row in San Jose, CA, Hotel Sorella CITYCENTRE in Houston, TX, Hotel Sorella Country Club Plaza in Kansas City, MO, and Lone Star Court in Austin, TX will be asking travelers to "Give Us the Shirt off Your Back."
The campaign, which will run June 1 through August 31, will serve as a major drive for Dress for Success and Career Gear, two acclaimed non-profits whose goal is to empower low-income individuals to enter or return to the work force by providing gently used professional suiting and accessories for interviews, as well as a host of career guidance services. All clothing with be laundered and dry cleaned as necessary by the properties prior to drop off.
According to Amy Trench, Corporate Director of Marketing & PR for Valencia Group, "Our hotel teams eagerly look forward to summer to engage with clients and their communities in a truly impactful way. We have a heavy heart for those who are trying to get back on their feet, and we hope our guests can help by letting us lighten their suitcase load by donating professional attire."
All five properties will be accepting monetary donations for each organization, as well as women's suits, business-appropriate apparel, shoes and accessories, including handbags and portfolios for Dress for Success. At Hotel Valencia Riverwalk in San Antonio and Hotel Sorella CITYCENTRE in Houston, guests will also have the option of leaving men's items for Career Gear such as suits, solid color blazers and sport coats, belts, briefcases, watches, cufflinks, overcoats and dress pants, shirts and shoes.
To further promote this program, hotels will be overseeing a range of independent activities on site. For more information on Valencia Group's partnership with Dress for Success, click here.
About Valencia Group
Houston-based Valencia Group is a fully integrated hospitality company that provides management, development, branding and repositioning services for independent, full-service hotels owned by the company, in addition to third parties. Exceptional service, style and location have become brand trademarks. Earning both national and international recognition for their distinctive designs, amenities and settings, Valencia Group properties are destinations and gathering places within their respective communities, some further benefitting from and enriching their space within the cultural heart of a city. The company continues to forge a niche with hotels that anchor and add value to urban, mixed-use environments, which further support or enhance the guest experience with superior residential, restaurant, retail and office components. The Valencia Group portfolio currently includes Hotel Valencia Santana Row in San Jose, CA; Hotel Valencia Riverwalk in San Antonio, TX; Hotel Sorella CITYCENTRE in Houston, TX; and Hotel Sorella Country Club Plaza in Kansas City, MO. Its newest concept, Lone Star Court, is a reinterpretation of the nostalgic motor court. The flagship is located at The Domain in Austin, TX, and a second, Cavalry Court, is underway in College Station, TX. Also In the development and construction phase are The George™, which will debut in tandem with Cavalry Court in fall 2016, plus Valencia Group's first five-star property, Hotel Alessandra Houston - anticipated to become a downtown landmark in early 2017. For more information, please visit http://www.valenciagroup.com.