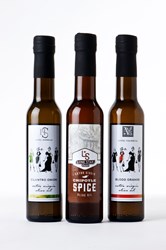 "We're excited to be working with products that are both premium and personalized to create signature experiences for our diners," says Robert Sapirman, Executive Chef of Citrus located in Hotel Valencia Santana Row
Houston, Texas (PRWEB) September 19, 2013
Valencia Group, a national collection of award winning hotels, is bringing its namesake Mediterranean inspiration into the kitchens and onto the tables of its chefs and guests. This month, the operator debuts a line of private label, ultra-premium extra virgin olive oils that represent each of its three brands. The timing of the launch coincides with property fall/winter menu revisions and the holiday gift giving season.
Diners can anticipate the unique flavor profiles being incorporated into select dishes, and beginning on October 1, the 200 ml bottles will also be available for purchase online at http://www.oliveandvineshop.com and on the Valencia Group culinary page at http://www.valenciagroup.com/culinary-arts.htm. Individual oils will be priced at $11, and the complete set of three is $33 (shipping charges apply). The initiative fulfills an ongoing desire of the Valencia Group to instill a true sense of place, while engaging the senses, at its properties, all of which are distinctive in their look and feel.
Valencia Group worked closely with Olive & Vine owners, Susan and Wayde Burt, to determine oils that would best reflect each brand, eventually settling on both infused and fused varieties originating in Tunisia. Located just steps from Valencia Group's Houston property, Olive & Vine has earned considerable acclaim for its ability to source some of the freshest and most sought after oils and vinegars in the world, which they maintain on site in fusti – stainless steel containers –and then bottle by hand in store.
According to Robert Sapirman, Executive Chef of Citrus at Hotel Valencia Santana Row, "We're excited to be working with products that are both premium and personalized to create signature experiences for our diners. And with the option of purchasing the oils, guests can savor or share memories of their visit by incorporating a taste of the hotels into their own culinary adventures at home."
The Valencia brand, named for an area of Spain known for its sweet orange trees, will showcase Blood Orange Extra Virgin Olive Oil. As a fused oil or agrumato, the ripe olives and whole fruit are crushed simultaneously at the mill, allowing for the essential oil from the citrus to mingle with the oil from the olives. The Valencia portfolio includes Hotel Valencia Riverwalk in San Antonio, TX and Hotel Valencia Santana Row in San Jose, CA.
The Sorella brand is the precocious sibling to Valencia. Sorella, which translates to sister in Italian, has been paired with a Cilantro Onion Extra Virgin Olive Oil. As an infused oil, the flavorings are added after the olives are crushed. The Sorella portfolio includes Hotel Sorella CITYCENTRE in Houston and Hotel Sorella Country Club Plaza in Kansas City, MO which debuts in November.
Lone Star Court, a new brand which will debut in November with an Austin, TX flagship, will feature Chipotle Spice Extra Virgin Olive Oil, an infused oil that references the eclectic independence of the Authentic Americana concept.
About Valencia Group
Houston-based Valencia Group provides management, development, branding and repositioning services for independent, full-service boutique hotels owned by the company, in addition to third parties. Recognized both nationally and internationally for their exceptional service and style, Valencia Group hotels fuse a crisp, globally-inspired modern design aesthetic with warm Mediterranean influences. All three of the Valencia Group hotels have earned coveted spots on the Condé Nast Traveler Gold List for 2013. This year is one of substantial growth for the company with the second Sorella - Hotel Sorella Country Club Plaza – slated for an autumn opening in Kansas City, MO and a new concept: Lone Star Court. A 21st Century reinterpretation of the nostalgic motor court. Lone Star Court will premier in autumn 2013 in Austin at The Domain. For more information, please visit http://www.valenciagroup.com.