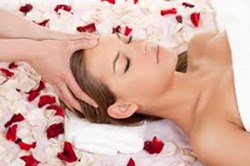 San Francisco, CA (PRWEB) February 11, 2014
Here is SpaHub's list of its 5 favorite Valentine's Day-themed spa treatments in 2014:
1) Sugar Kiss Scrub & Massage, The Spa at Red Rock in Las Vegas, NV
Found at the Red Rock Spa in Las Vegas, Nevada, this sugary sweet spa treatment begins with a LaLicious™ Sugar Kiss body scrub, completed with a luxurious sugar kiss butter massage. The scrub helps to exfoliate the skin, leaving it smooth and refined, while the scrumptious body butter leaves the skin feeling hydrated and replenished.
2) Spa Valentine's Celebration, Silverado Resort and Spa in Napa, CA
This couples' holiday-exclusive treatment is performed in a romantic suite warmed up by the fireplace. After indulging in champagne and chocolate, couples will receive either a 50 or 80 minute warm, soothing grape-seed oil massage by the fire light.
3) Red Currant Valentine's Facial, Omni Hotels and Resorts in Carlsbad, CA
A luscious blend of antioxidants made up of red currants, strawberries, and acai berries, is mixed together with a plant-derived hyaluronic acid to massage into the skin for restoring collagen levels and cell vitality. The treatment results in luminous, youthful-looking skin and a glowing complexion just in time for evening Valentine's Day festivities.
4) Spa Manicure and Pedicure Valentine's Package, Lisa's Salon and Day Spa in Lombard, IL
What says Valentine's Day better than a bouquet of red roses? Lisa's Salon and Day Spa Valentine's Package will be sure to sweep people off their feet. The manicurist begins by soaking clients' hands and feet in a bath of rose oil sprinkled with pedals, followed by a relaxing rose scrub down. To top off this spa package, customers are catered with chocolate and champagne while they enjoy the sweet-smelling Mani and Pedi.
5) Timeless and New Spa Package, The Ritz-Carlton in Atlanta, GA
For people looking for a real ritzy Valentine's Day splurge, they should book the Timeless and New Spa package at the Ritz-Carlton in Atlanta, Georgia. This 130 minute package includes an 80 minute caviar and pearl facial, a 50 minute champagne and shimmer body scrub, and of course, the treatment is complimented with a refreshing glass of champagne to sip on. Upon checking out, this treatment includes a fond farewell gift- a Kerstin Florian Caviar Rose Damascena Mist for every customer that purchases the package.
Whether treating oneself or someone else this Valentine's Day, these spa treatments are sure to get everyone in the mood for a little bit of romance. SpaHub recommends these five treatments for pampering oneself this February 14th or to enjoy together as a couple.
With Spahub.com's expansive online spa directory covering the U.S. and Canada, visitors can find the right spa resort or treatment to meet their needs.
About Spahub:
Spahub's mission is to create the largest Day, Medical and Getaway Spa Directory in the world. They strive to make the site a comprehensive place to learn about the different services spas provide. The goal is to provide every visitor with an effective tool for quickly locating and exploring a spa's amenities before taking a step out the door. For more information, please visit http://www.SpaHub.com.