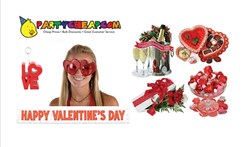 Receive a box of chocolates on orders of $75 or more when you order online.
Shippensburg, PA (PRWEB) February 11, 2014
Party Cheap announces a variety of new Valentine's Day decoration ideas to outfit holiday events and parties. Receive a box of chocolates on orders over seventy five dollars and an additional five dollars off when you enter code: CHOCOLATES. Just in time for Valentine's Day on February 14th 2014.
Valentine's Day decoration ideas by Party Cheap are a great way to spruce up any holiday party or company event. Party Cheap offers an extensive selection of party suplies including heart cutouts, heart confetti, heart fancy frames, heart necklaces, heart beads, heart tiaras, valentines decorating kits, floor displays and more. Browse Partycheap.com to view the entire selection of Valentine's Day products.
Party Cheap began in 2001 and is now one of the largest online party suppliers on the internet today. They know quality, selection and price are important and strive to offer the best overall value to their customers.
Learn more about http://www.PartyCheap.com and browse its wide range of valentine's supplies for nearly any party or event.