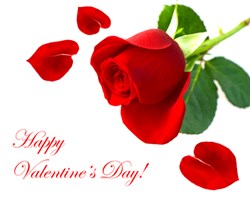 Few places are more romantic and accommodating than the Coachella Valley.
Palm Springs, CA (PRWEB) February 14, 2014
Brad Schmett, Broker Associate with Luxury Homes by Keller Williams announced today that a record high amount of special Valentine's Day Romantic Getaway packages, coupled with the large number of special events focused on Cupid's special day have generated an influx of visitors that may break previous records. The local real estate community is gearing up to accommodate visitors who will be shopping for luxury homes and real estate portfolio acquisitions.
Traditionally, the desert is a favorite destination for Valentine's Day celebrants. Each year the number of visitors increases substantially. Local hotels and restaurants go out of their way to create clever and economical romantic packages to attract guests. In years past, the Palm Springs area was notorious for its gala spring breaks but in recent years Valentine's Day has surpassed several other holidays in record attendance.
Schmett recently observed, "Few places are more romantic and accommodating than the Coachella Valley. Perfect weather allows for outdoor activities, year-round swimming, resort style clothing, and al-fresco dining. Our close proximity to Los Angeles and other freeway close areas make us a logical and smart choice for a romantic weekend getaway. Every year we seem to get a bigger crowd in February thanks to Valentine's Day and the long Presidents weekend. With a stellar inventory of gorgeous luxury homes, great financing packages and lower than ever interest rates it is little wonder we are busier than ever this time of year."
Among the most popular packages are the: Sweet Getaway Package at the Spa Resort Casino, Mischievous of Rendezvous Package at the Riviera Palm Springs, Viceroy Retreat to Romance Package, along with many others. The Peaks Restaurant at the Palm Springs Tramway will also feature a special package that includes a ride on the tram and a four course dinner at the top of the mountain. Make reservations now for your favorite getaway.
To find out more about the Valentine's Day Celebrations in Palm Springs visit http://www.palmspringslife.com/Palm-Springs-Life/Desert-Guide/February-2013/10-Places-to-Take-Someone-Special-for-Valentines-Day/.
To find out more about investing in Palm Springs, CA real estate visit http://www.palmspringsrealestateinfo.com/.
About Luxury Homes by Keller Williams: Luxury Homes by Keller Williams – La Quinta, is an exclusive, elite and sophisticated group of real estate consultants raising the bar for service in the La Quinta and Palm Springs area residential real estate market.