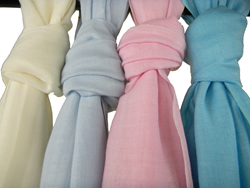 Cozy, soft cashmere pashminas are a timeless gift.
Houston, Texas (PRWEB) February 02, 2015
The Pashmina Store, one of the largest online sources of pure, grade A cashmere pashminas, today announced its annual Valentine's Day sale. Beginning today The Pashmina Store will be offering 15% off purchases of $75 or more on all classic cashmere pashminas, scarves, gloves, socks and hats. Shoppers can take advantage of the Valentine's Day promotion by entering Love2015 through February 14th during checkout.
"Men can never go wrong giving a special someone cashmere on Valentine's Day. Cozy, soft cashmere pashminas are a timeless gift," said Blair Rhodes, co-owner of The Pashmina Store. "Our high-quality cashmere feels so warm against the skin, it's bound to make sparks fly."
The Pashmina Store offers more than 70 pink or red cashmere items to heat things up this Valentine's Day. Other popular, tried and true Valentine's Day gift ideas from The Pashmina Store include:

Women's Cashmere/Silk Pashminas Wrap in Black
Women's Pure Pashmina Wrap in Red
Pure Pashmina Shawl in Silver Grey
About The Pashmina Store
On the Web since 2001, The Pashmina Store has been proud to offer the finest quality pure pashmina and pashmina/silk blend blankets, shawls, wraps, scarves and cashmere blankets. Customers enjoy the entire experience with quality products at exceptional values, free standard shipping in the U.S from Texas, and a satisfaction guaranteed.