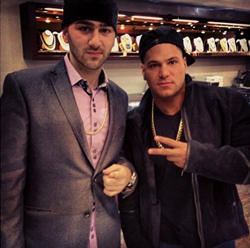 "Rose gold looks good on many skin tones," said Avianne & Co. President Joe Aranbayev.
New York, NY (PRWEB) January 27, 2014
Traditional Valentine's Day gifts include chocolates, flowers and jewelry, especially heart-shaped. For this holiday season, custom jeweler Avianne & Co. recommends giving rose gold jewelry as a more unique gift.
Rose gold, a rising trend, uses pure gold mixed with copper to give the precious metal a pink tinge. First popularized more than a century ago, the resurgence of rose gold is partly due to its distinct coloring. It is less common than its yellow and white counterparts, resulting in a sense of exclusivity when compared to other styles.
"Rose gold looks good on many skin tones," said Avianne & Co. President Joe Aranbayev. "Diamonds sparkle in ways that many people have yet to see and experience with rose gold pieces."
Recently, Avianne & Co. created and designed several custom rose gold pieces for MTV's Jersey Shore superstar Ronnie Magro. The jeweler's created a rose gold Cuban link chain, which cost $53,000 and took about two weeks to create. The chain contains 30 carats in diamonds.
While jewelry remains a popular gift for the holiday that celebrates love, a rose gold piece will stand out among the rest. Avianne & Co.'s design team regularly creates custom pieces, which can take as little as two weeks to create a one-of-a-kind Valentine's Day jewelry.
In Manhattan's famed Diamond District, Avianne & Co. Jewelers is a premier fine jewelry source for celebrities, entertainers and athletes. First- and second-generation immigrants founded the family business in 1999 and Avianne & Co. has since built a reputation for custom and high-end pieces including elegant diamond necklaces and bracelets, exquisite engagement rings and wedding bands, watches and chains for its celebrity and executive clientele. Famous personalities purchase custom jewelry exclusively from Avianne & Co., including Derrick Williams, Ne-Yo, Lil Wayne, Cam'Ron and Nicki Minaj, and those pieces are featured in major news outlets including Forbes and XXL. Avianne & Co. survived the economic recession at a time when historic jewelry businesses were shutting down in the heart of America's NYC Diamond District. Avianne & Co.'s store is located on West 47th Street between 5th Avenue and 6th Avenue (Avenue of the Americas) in midtown Manhattan, within walking distance of many New York attractions. For more information, visit http://www.avianneandco.com or call 888-243-4344.
###
For additional information, interview and image requests, contact Axia Public Relations at 866-999-2942, ext. 700.