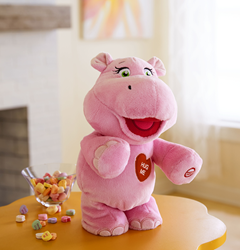 KANSAS CITY, Mo. (PRWEB) January 27, 2015
Valentine's Day is just around the corner, and the world could use more reasons to share some love and kindness. Hallmark Gold Crown® stores serve as Valentine's Day headquarters with gifts for celebrating relationships and cards that deliver just the right messages for loved ones.
This year, Hallmark offers more than 1,300 different Valentine's Day card designs – with a broad selection of cards for romantic, family and friend relationships – plus a wide array of gifts that will make hearts of all ages happy, including:

The Hug Lovin' Hippo dances and sings, telling the world how much she loves hugs. Give her a squeeze and listen to her sing a parody of Sir Mix A Lot's song "Baby Got Back" with a twist: "I like big HUGS and I cannot lie..." When you hear it, you just can't help but dance!
Parents and grandparents will enjoy the together time experience that Penny Paperheart™ brings to children. This little paper girl with her paper hearts is designed to inspire imaginative play and instill the power of goodwill with her Hearts of Kindness Kit, perfect for Valentine's Day. Various Penny Paperheart play sets include paper dolls, paper clothes, and themed play environments.
The popular line of Hallmark itty bittys® pint-sized (4 inches tall) plush characters introduces several new licensed characters this spring. Three limited-edition Valentine's Day designs – both Lady and the Tramp from Disney's Lady and the Tramp (celebrating its 60th anniversary this year) and Hug-Lovin' Hippo – join the growing lineup of itty bittys.
For expressing the emotions that matter, Hallmark Gold Crown® stores offer unique and innovative Valentine's Day cards for all relationship needs:
Sarah Jessica Parker Collection: This collection of 12 fresh, feminine and fabulous Valentine's Day cards were created in partnership with one of the world's most recognized fashion icons. The cards have simple, heartfelt messages and feature unique patterns, illustrations and lettering with just the right amount of sparkle and shine.
Hallmark Signature Collection: Fresh, modern designs are paired with fun, easy-to-send messages perfect for sharing love this Valentine's Day. Unique materials like sprinkles, sequins and wood offer one-of-a-kind cards for one-of-a-kind relationships.
Love Collection: This collection of cards covers all types of relationships from newly dating and first Valentine's Day together, to girlfriend and boyfriend, partners, husband and wife, and longtime loves. Messages reflect real life love with heartfelt and honest prose that is positive, not perfect.
Studio Ink: Simple, lighthearted and often funny, these cards created by and for a younger generation authentically share who they are with the people who matter to them. Cards are available for both romantic and not-so-romantic relationships.
Buy a Card, Get a Free Month of Movies from Feeln
Share a card with a loved one and then enjoy a movie together! Participating Hallmark Gold Crown stores will offer a special promotion to shoppers Feb. 2-14. Buy one Hallmark Valentine's Day card and get a free month of movies on Feeln. ($4.99 value, free trial subscription required.) Feeln reinvents family movie night with the only streaming movie service that handpicks films that everyone can watch together.
Feeln offers beloved Hollywood hits, Academy Award-winning classics, and undiscovered gems that can be enjoyed by film fans of all ages. Feeln also offers expertly crafted original short films you won't see anywhere else, and it is the exclusive online home for Hallmark Hall of Fame favorites. Feeln is available online, on iPhones and iPads, Android devices, and at home on Apple TV, Roku players, Xbox 360, and connected TVs. Learn more at Feeln.com.
Personalize Cards Online for One or Many
Personalized Valentine's Day greeting cards are available on Hallmark.com, including more than 30 designs of classroom valentines that kids can hand out at school. Create the perfect Valentine's Day card by adding a photo and a personal message. Hallmark.com will stamp and send the card to the recipient, or back to the sender to hand deliver.
All things Valentine's Day can be found at Hallmark Gold Crown® stores and other participating Hallmark retailers nationwide. Use the store locator on Hallmark.com to find the nearest Hallmark Gold Crown store. And for creative tips for celebrating Valentine's Day, visit the Ideas section on Hallmark.com.
"Baby Got Back"
(written by: Anthony L. Ray)
UNIVERSAL-SONGS OF POLYGRAM INTERNATIONAL, INC
on behalf of itself and MIX-A-LOT PUBLISHING.
© Disney
Sarah Jessica Parker's name used under license.
Hallmark Gold Crown / Feeln Offer Details
Offer valid 2/2/15 – 2/14/15 while supplies last at participating Hallmark Gold Crown stores in the U.S.A. only. Not valid for online purchases at Hallmark.com. Not valid on gift card purchases or past purchases. No cash value. Tax not included. Feeln free month trial offered by Feeln and valid through 12/31/15.
About Hallmark Cards, Inc.
Hallmark makes the world a more caring place by helping people express what's in their hearts and connect in emotional ways with others. In the U.S., innovative Hallmark greeting cards and gifts are sold through leading mass retailers, the network of Hallmark Gold Crown® specialty stores and online. Worldwide, Hallmark offers products in more than 30 languages available in 100 countries. Millions of households enjoy family friendly television programming offered by cable's top-rated Hallmark Channel and fast-growing Hallmark Movies & Mysteries. Hallmark's Crayola subsidiary inspires artistic creativity in children through Crayola® crayons and markers as well as other innovative art tools, crafting activities and creative toys. Privately held Hallmark is based in Kansas City, Mo., and continues to be led by members of the founding Hall family. Visit http://corporate.hallmark.com for more details. Connect at Hallmark.com and on Facebook, Twitter, Instagram and Pinterest.