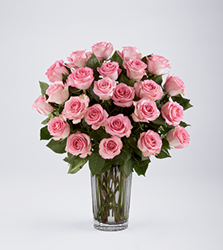 All these carry warm Valentine's Day wishes of admiration, affection, love, romance and sentiments of caring that only fresh flowers can convey.
CHANTILLY, VA (PRWEB) January 29, 2017
Love is in the air, romance is alive and well, chocolate-covered strawberries are craved and gorgeous, fresh flower arrangements are wildly anticipated for Valentine's Day.
Renown floral designers have crafted exquisite arrangements once again to meet the demand, and internationally-renown Vera Wang has gotten into the game. The one time U.S. Figure Skating Championship competitor, former Vogue editor and bridal and formal wear designer with shops around the world, Vera Wang has a name and talent synonymous with elegance and creativity. She graces perfume, jewelry, eyewear, shoes and home decor with her name ~ and flower bouquets!
The FDT® Blush Rose Bouquet® by Vera Wang is composed of individually selected stems with rose blossoms in exotic blush pink shades. Assembled in an unusual oval vase with ribbed vertical glass and a hint of soft smoky gray, it's a bouquet sure to bring smiles and expressions of abiding affection.
An FTD® Romantic Rose Bouquet by Vera Wang features lovely blooming red roses, the ultimate symbol of love. Nestled in her signature oval vase, the royal romantic roses are nestled in among leatherleaf greens.
Other floral arrangements dedicated to Valentine's Day include bouquets with roses mixed with carnations, Oriental lilies, lush greens, pure white lilies and even some passionate purple surprises and daisies.
FTD® Expressions of LoveTM includes love on the card, love in your heart and LOVE etched on the vase
the stunning part of the FTD® Stunning BeautyTM Bouquet is pops of purple among red and white
FTD® Sweet Surprises® includes whimsical daisies, mini carnations, roses and a pink designer ribbon
All these ... and more ... carry warm Valentine's Day wishes of admiration, affection, love, romance and sentiments of caring that only fresh flowers can convey. Bloomstoday.com also understands the keepsake value in an exquisite vase that is cherished right into spring and all year long. The bloomstoday.com website is like a Valentine's Day headquarters of fresh, long lasting flowers and enchanting vases all across the country.
About Blooms Today:
Blooms Today™ has taken the local flower shop feel and deep understanding of customer needs to a nationwide floral delivery service provider level. With a deep commitment to exceeding customers' expectation for quality, value and extraordinary service, Blooms Today has served millions of customers nationwide for more than 15 years. From a small local floral business with roots that stem back to the early 1920s, co-founders George Dukas and Don Mayer in 2000 have built a family business that is known as Blooms Today.