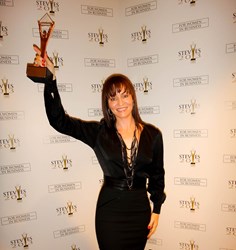 There is never enough that can be done to increase health awareness and help women find a balanced approach to weight loss without resorting to damaging diet fads.
New York, NY (PRWEB) November 18, 2013
Valerie Orsoni of the widely acclaimed LeBootCamp has been named the winner of a Bronze Stevie® Award in the 10th annual Stevie Awards for Women in Business which honors female entrepreneurs, executives, employees and the organizations they run.
The CEO & Founder of CoachingLabs.com and the online weight loss sensation LeBootCamp.com, Valerie was honored with a Bronze Stevie Award for Female Entrepreneur of the Year at the November 9th Stevie awards dinner held at the Marriott Marquis Hotel in New York City.
A native of Corsica and the inventor of online coaching for weight loss - which has since been replicated around the world – CEO Valerie Orsoni reveals that what drives innovation at CoachingLabs LLC is a genuine passion for global health shared by herself and her team.
"There is never enough that can be done to increase health awareness and help women find a balanced approach to weight loss without resorting to damaging diet fads," she said. "Winning the Stevie Award for our success in this very important field is an honor – and one which endorses the vital contribution our company is making to society at large."
Stevie Award winners were selected by more than 240 executives worldwide who participated in the judging process this year.
"For 10 years we have been recognizing the achievements of women in the workplace, and this year's nominations were the most impressive class the judges have ever reviewed," said Michael Gallagher, founder and president of the Stevie Awards. "We congratulate all of this year's Grand, Gold, Silver and Bronze Stevie Award winners for their achievements."
Valerie Orsoni's scientifically-backed work in the healthy living field is continuously recognized and called upon by acclaimed media as well as medical experts. Her notable appearances over the past year included guest speaker at an exclusive Obesity Conference in Stanford Hospital, CA; featured speaker for SIAL, The Global Food Marketplace in Paris; and an exclusive Oscars 2013 interview by M6, Premiere French TV Network's hit show "Accès Privé".
###
About CoachingLabs / LeBootCamp
The leader in healthy living coaching, CoachingLabs.com offers a wide array of healthy living products and services ranging from personalized online coaching (LeBootCamp) to fresh food, books, interactive video games, and exclusive gift packages. LeBootCamp.com is an award-winning weight loss program available in 38 countries worldwide, created by Celebrity Coach, Valerie Orsoni. LeBootCamp offers members an all-encompassing weight loss plan - without supplements, counting points orgrueling diet restriction, now proudly coaching 1.2 million members worldwide with a 92% success rate. Valerie Orsoni also is the global image of the MyBodyCoach game on Wii, Kinect and Sony Move and author of 16 healthy living books, including "Le Personal Coach" published by Reader's Digest. Frequently called upon by international media to comment on a wide range of healthy living subjects, Valerie has appeared on Good Morning America, CNN, NBC, FOX, CBS, and more. Learn more at http://www.CoachingLabs.com & http://www.LeBootCamp.com.
About the Stevie Awards
Stevie Awards are conferred in five programs: the Asia-Pacific Stevie Awards, The International Business Awards, The American Business Awards, the Stevie Awards for Women in Business, and the Stevie Awards for Sales & Customer Service. Honoring organizations of all types and sizes and the people behind them, the Stevies recognize outstanding performances in the workplace worldwide. Learn more about The Stevie Awards at http://www.StevieAwards.com.