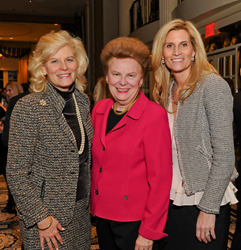 Our future is rooted in the past and our 35th anniversary is the perfect time to reflect upon that.
New York, NY (PRWEB) September 08, 2016
On September 8, Valerie Wilson Travel, Inc. (VWT), one of the largest, family-managed, full service travel consulting agencies specializing in high-touch services, will commemorate its 35th anniversary - a milestone that will bring together luxury hoteliers, resort and cruise line operators, airlines and their team from around the world during two exclusive celebrations.
"Our future is rooted in the past and our 35th anniversary is the perfect time to reflect upon that," said VWT Founder, Chairman & CEO, Valerie Ann Wilson. "So much has changed over the years, and we truly believe that what we do makes a difference. We care about our people and our supplier partners. That is why it was important to invite them to New York City and personally thank them in a momentous way."
Wilson, who continues to run the company along with her two daughters, Co-Presidents and Co-Owners Jennifer Wilson-Buttigieg and Kimberly Wilson Wetty, founded VWT in 1981. Headquartered in New York City with a diverse client base, there are 16 offices nationwide with a network of 315 Travel Advisors and Associate Agents.
For 35 years, VWT has been dedicated to creating value-added amenities and delivering unparalleled service. It has been the company's forward-thinking that has enabled them to live up to that promise by implementing their own advances in the industry.
Suite Access™ by Valerie Wilson Travel launched in 2015 and today has 222 member properties in 46 countries and 109 destinations. It offers travelers elite access to the finest suites in the most extraordinary hotels and resorts hand-picked by VWT's expert advisors. Suite Access™ is an extension of VWT's Power of Access®, which provides clients with valued unique amenities and exclusive benefits, VIP treatment, and exceptional service with preferred partners.
"We have had resounding success with the Suite Access™ program, which was like creating a start-up within a well-known brand," said Jennifer Wilson-Buttigieg. "Our sales program-to-date are over $2.6 million and we are well within reach of $3-plus million in sales for 2016. The desire of properties to sell suites at full rate is on the top of each of their radars and this program perfectly aligns with that."
Two Celebrations
VWT will host an exclusive evening gala celebration on December 14 at Cipriani 42nd Street with over 500 travel-industry guests from around the world. In true "VWT" fashion, it will afford a global experience creating a path to "Paint the World Peach" (the VWT iconic brand color) where attendees will walk the Peach Carpet. The heart of the event will center on gratitude and giving. The Peach Awards will be launched to recognize the exemplary efforts of those within the company and industry, plus building upon the company's continued commitment to giving back, there will be a large charity announcement.
On December 14 and 15, VWT will host a two-day travel Academy that will kick off with keynote speaker, Nathan Lump, Editor-in-Chief of Travel + Leisure magazine, as well as a moderated CEO panel on travel trends. Over 150 advisors from the company's 16 offices will come together for a unique training experience featuring 32 customized training classes with top industry talent at The St. Regis New York. The Academy will include an 80-minute tradeshow with suppliers and a pre-gala event hosted by Delta Air Lines.
"We are marking this milestone by focusing our efforts on education and professional development," said Kimberly Wilson Wetty. "During the Academy, we will be able to showcase our most preferred partners who will have access to advisors, as well as senior executives. Through this collaborative training approach, we hope that our supplier partners and our advisors collectively reach their GOALS (Grow, Optimize, Achieve, Learn, Succeed) in order to strengthen their working relationship."
Added Valerie Ann Wilson, "We have always been a consulting firm, but now more than ever, we are consultants with a greater purpose as firsthand information is still the best. This is especially true as it relates to the 'fear factor' - the fear of terrorism at anytime, anywhere; the fear of a mosquito; and the fear of the current state of the U.S. Experienced travel advisors are saying that they feel this is the perfect time to consider a new destination instead of returning to somewhere the client may feel is no longer safe. It is a matter of being a true consultant and talking to the client about their fears. That is why we pride ourselves on our continued efforts to create unforgettable, luxury travel experiences."
Knowledge, gratitude and giving back will be the watchwords for Valerie Wilson Travel's upcoming birthday as they invite their employees, partners and clients to share in and expand their expert knowledge - making their network even stronger over the next decade. For more information on Valerie Wilson Travel, visit
http://www.ValerieWilsonTravel.com.
# # #
About Valerie Wilson Travel, Inc.
Valerie Wilson Travel, Inc. headquartered in New York, NY, was founded by Valerie Ann Wilson, Chairman and Chief Executive Officer, in 1981, and managed along with her two daughters, Co-Presidents and Co-Owners Jennifer Wilson-Buttigieg and Kimberly Wilson Wetty, is an award-winning travel management company that has grown as an industry leader with 16 offices in the United States servicing business, leisure and meeting/incentive travelers. All VWT locations are proud members of Virtuoso® - the travel industry's leading luxury network. The agency has been consistently been named on the annual Travel Weekly Power List as well as Travel + Leisure's A-List, and most recently as the 33rd largest in the United States.